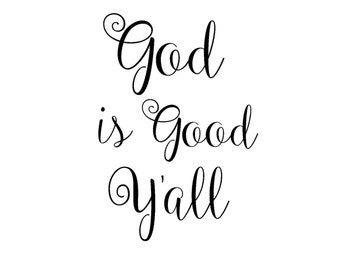 All God's perfect qualities are made freely available to all for the benefit of the whole world. God is good. Jesus alerts us that God alone is good. God is good, kind, thoughtful, compassionate and loving. God so loved the world that He sent Jesus to die for us. God is good y'all.
Because God is good, God is in a good mood. It is a myth that the old testament (aka covenant) is all about an angry God. As James alerts us "Every good thing given and every perfect gift is from above, coming down from the Father of lights, with whom there is no variation or shifting shadow." God never varies from being good. At all. Ever!
Not only is God good and in a good mood. God does good. His actions are grounded in goodness. As King David says about God, "You are good and do good; Teach me Your statutes." Jesus challenges me to understand the scope of God's goodness. "He causes His sun to rise on the evil and the good, and sends rain on the righteous and the unrighteous."
God is good — We see it in his work of creation
I have good news. God is God and perfect. Everything He made is good. Nothing is to be rejected by us. In fact, God, at creation, declared it all was very good!
Most excellent! Stunning! Amazing!
1 Timothy 4:4 (NASB) —  For everything created by God is good, and nothing is to be rejected if it is received with gratitude;
Genesis 1:4 (NASB) — God saw that the light was good; and God separated the light from the darkness.
Genesis 1:31 (NASB) — God saw all that He had made, and behold, it was very good. And there was evening and there was morning, the sixth day.
Psalm 145:9 (NASB) — The Lord is good to all, And His mercies are over all His works.