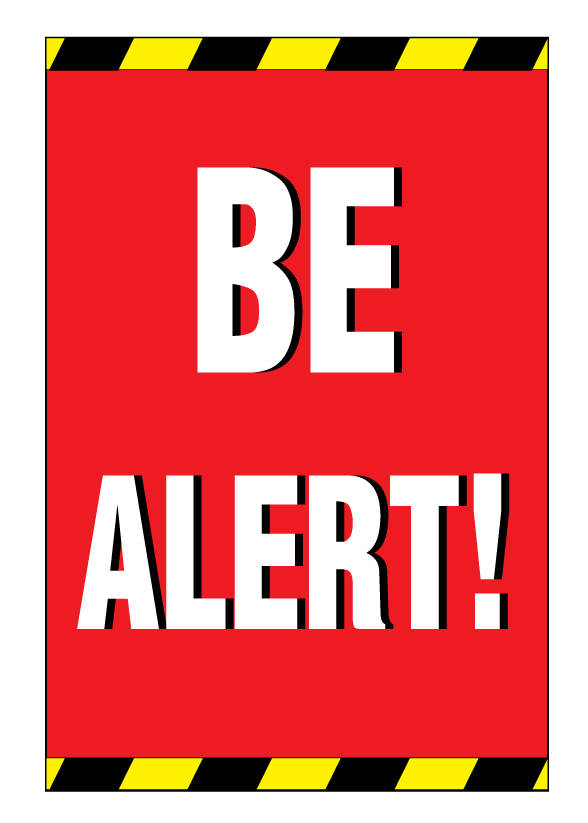 Jesus wants me to know something. Jesus is going to return. It could happen anytime. It is up to God when that will be. Even Jesus doesn't know when.
So what am I to do?
Be ALERT!
Jesus is clear. He is saying to everyone. We are all to be very alert.
"Now concerning that day or hour no one knows—neither the angels in heaven nor the Son—but only the Father.
"Watch! Be alert! For you don't know when the time is coming.
"It is like a man on a journey, who left his house, gave authority to his servants, gave each one his work, and commanded the doorkeeper to be alert. Therefore be alert, since you don't know when the master of the house is coming—whether in the evening or at midnight or at the crowing of the rooster or early in the morning. Otherwise, when he comes suddenly he might find you sleeping. And what I say to you, I say to everyone: Be alert!" | Mark 13:32-37 (CSB)
The Greek word here for alert is γρηγορεύω grēgŏrĕuō, gray-gor-yoo´-o. It means to stay awake, to be in continuous readiness and alertness to learn — 'to be alert, to be watchful, to be vigilant'.
To be alert, to stay at one's best we must stay awake. Why must we stay alert? Because nobody knows when Jesus the Messiah will return. When He was on earth in His humiliation, Jesus did not know the day or hour of His coming again. Even the angels do not know. The unsaved world scoffs at us because we continue to cling to this "blessed hope," but He will return as He promised. Our task is to be faithful and to be busy, not to speculate or debate about the hidden details of prophecy.
Watchfulness has nothing to do with going to heaven. It is purely a matter of pleasing Him, hearing His loving commendation, and receiving His reward. There is no suggestion here that, when He returns, Jesus will take only the faithful to heaven and leave the others on earth to suffer the Tribulation. His family is one, and He is now preparing a home for all of them, even the least worthy. We go to heaven because of His grace, not because of our faithfulness or good works.
Sources:
Christian Standard Bible. (2017). (Mk 13:1–37). Nashville, TN: Holman Bible Publishers.
Louw, J. P., & Nida, E. A. (1996). Greek-English lexicon of the New Testament: based on semantic domains (electronic ed. of the 2nd edition., Vol. 1, p. 332). New York: United Bible Societies.
Wiersbe, W. W. (1996). The Bible exposition commentary (Vol. 1, p. 158). Wheaton, IL: Victor Books.
Strong, J. (1996). The New Strong's Dictionary of Hebrew and Greek Words. Nashville: Thomas Nelson.