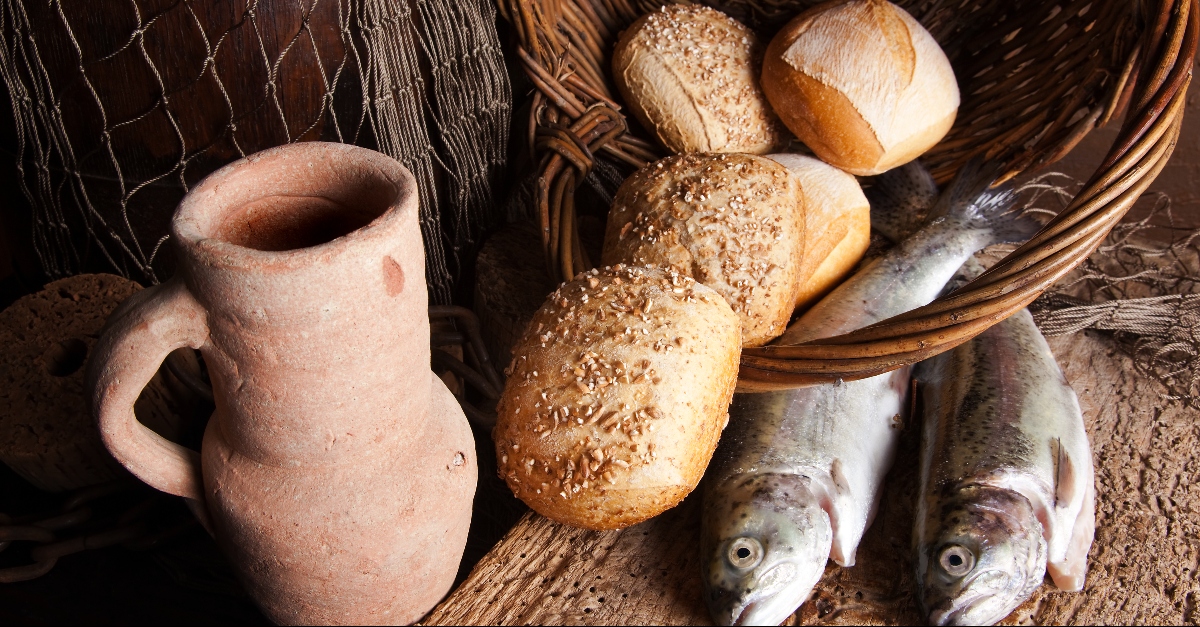 Jesus challenges us. It had been a long day. It was beginning to get late.
His disciples came to him and said to Jesus, "Dismiss the crowd so they can go to the farms or villages around here and get a room for the night and a bite to eat. We're out in the middle of nowhere."
You feed them, he challenged them.
They came to him with a problem and a simple solution. They knew they couldn't feed them because there were close to 5,000 men and there was no food. No one was prepared to be there so long with Jesus.
They also should have known that God can provide food when there is none. They had been around Jesus long enough to know this. Our faithless solutions don't allow God to shine through.
And so … Jesus challenges us to seek God first, don't depend on our own solutions even when we have one and let Him shine through.
God has a goal for us. It is to trust Him and not ourselves.
"You feed them," Jesus said. (Luke 9:13)
There are so many amazing and supernatural acts of Jesus, revealing and confirming his Messianic credentials, and the coming of God's kingdom. The miracles of the Messiah are to be seen as an integral part of his ministry.
We tend to think of the dramatic miracles where Jesus heals the sick, casts of demons and raises the dead. Jesus also had authority of nature and natural forces. Jesus establishes that "nothing is impossible with God". John tells us that "many other signs Jesus also performed in the presence of the disciples, which are not written in this book; but these have been written so that you may believe that Jesus is the the Messiah, the Son of God; and that believing you may have life in His name."
The Greek word for miracle is δύναμις dunamis, doo´-nam-is. Think of the power of dynamite. It is stunning and amazing power, i.e. the power of the Holy Spirit from God the Father.
The greatest miracle is the resurrection of Jesus to an incorruptible body and His ascension to heaven. Jesus was a walking, talking miracle machine. Everywhere He turned, people came in faith to be healed. Frequently the religious leaders asked for a sign (aka miracle) from Jesus. His answer was they would only get the sign of Jonah. 3 days of  death and then the resurrection. Now that is a big deal and a stunning sign! And He did it. Jesus poured out His blood, died, was buried and then rose again after 3 days.  Jesus told the religious leaders who want a sign "An evil and adulterous generation craves for a sign."
So what about today? Are miracles, signs and wonders still happening? Some say that they ceased after the demise of the Apostles. My opinion is yes, they still happen. I have personally experienced the healing power of Jesus as have countless others. Jesus promised "These signs will accompany those who have believed: in My name they will cast out demons, they will speak with new tongues; they will pick up serpents, and if they drink any deadly poison, it will not hurt them; they will lay hands on the sick, and they will recover."
And again the Apostle Paul says to the church in Corinthians "and to another the effecting of miracles, and to another prophecy, and to another the distinguishing of spirits, to another various kinds of tongues, and to another the interpretation of tongues."
And again Paul says to the same church  "God has appointed in the church, first apostles, second prophets, third teachers, then miracles, then gifts of healings, helps, administrations, various kinds of tongues. All are not apostles, are they? All are not prophets, are they? All are not teachers, are they? All are not workers of miracles, are they?"