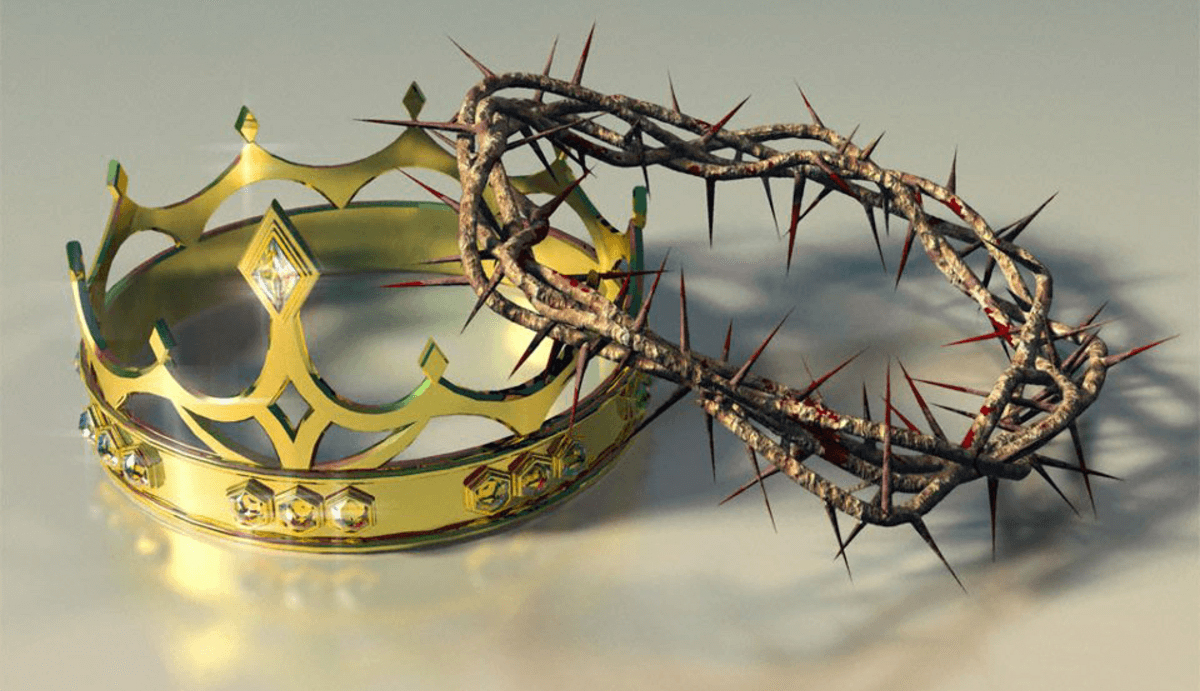 Who is the King of Glory? King David is a warrior King. He spent much of his life fighting to secure Israel and set up God's rule there. David, while an earthly King, knows who the real King is. Jesus is the King of Glory! Now that is some good news!
Lift up your heads, O gates, And be lifted up, O ancient doors, that the King of glory may come in! Who is the King of glory? The Lord strong and mighty, The Lord mighty in battle. | Psalm 24:7-8
News alert!
We serve a beautiful, majestic, and amazing King!
Good news. Jesus is the King of Glory!
What is glory? Glory is a huge thing in the Kingdom of God. The Greek word is δόξα dŏxa, dox´-ah; glory, dignity, glory (-ious), honour, praise, worship, and beauty. The glory of God is the beauty of His spirit. It is not an aesthetic beauty or a material beauty, but it is the beauty that emanates from His character, from all that He is. James 1:10 calls on a rich man to "glory in his humiliation," indicating a glory that does not mean riches or power or material beauty. This glory can crown man or fill the earth. It is seen within man and in the earth, but it is not of them; it is of God. The glory of man is the beauty of man's spirit, which is fallible and eventually passes away, and is therefore humiliating—as the verse tells us. But the glory of God, which is manifested in all His attributes together, never passes away. It is eternal. In all aspects, Jesus is the King of Glory!
Faith at Work: Our job, at work, is to fully reflect the glory of God and His Son Jesus. We can do this in our everyday language as we go about our jobs. It is important for our colleagues and co-workers to know about the glory of God.
Can I see the Glory of God?  Yes, Jesus says that we can.
Jesus said to her, [the woman at the well] "Did I not say to you that if you believe, you will see the glory of God?" John 11:40 (NASB) And again Jesus says "Then they will see the Son of Man coming in a cloud with power and great glory." Luke 21:27 (NASB)
What does this mean to me? What I need to realize is that God's glory is constant, and as I journey through life I will see it manifest here and there, in this person or that forest, or in a story of love or heroism, fiction or non-fiction, or my own personal life. But it all goes back to God in the end. And the only way to God is through His Son, Jesus the Messiah (the King of Glory). I will find the very source of all beauty in Him, in heaven, if I am in the Messiah. Nothing will be lost to me. All those things that faded in life I will find again in Jesus. Jesus is the source of all beauty.
Here is more about Jesus being the King of Glory (aka beauty)!
Hebrews 1:3 (NASB) — 3 And He is the radiance of His glory and the exact representation of His nature, and upholds all things by the word of His power. When He had made purification of sins, He sat down at the right hand of the Majesty on high."
Isaiah 49:3 (NASB) — 3 He said to Me, "You are My Servant, Israel, In Whom I will show My glory."
John 1:14 (NASB) — 14 And the Word became flesh, and dwelt among us, and we saw His glory, glory as of the only begotten from the Father, full of grace and truth.
John 13:31–32 (NASB) — 31 Therefore when he had gone out, Jesus said, "Now is the Son of Man glorified, and God is glorified in Him; 32 if God is glorified in Him, God will also glorify Him in Himself, and will glorify Him immediately."
John 17:5 (NASB) — 5 "Now, Father, glorify Me together with Yourself, with the glory which I had with You before the world was."
2 Corinthians 4:6 (NASB) — 6 For God, who said, "Light shall shine out of darkness," is the One who has shone in our hearts to give the Light of the knowledge of the glory of God in the face of the Messiah.
2 Peter 1:17 (NASB) — 17 For when He received honor and glory from God the Father, such an utterance as this was made to Him by the Majestic Glory, "This is My beloved Son with whom I am well-pleased"