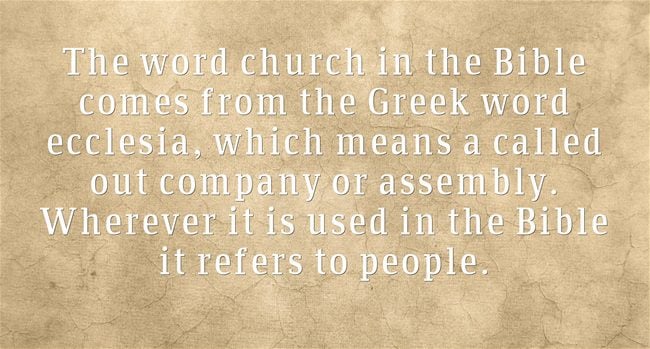 Yikes! Many people today think of the church as a building. This is not a biblical understanding of the church. Period. End of story. Please understand this!
The word "church" comes from the Greek word ekklesia which is defined as "an assembly" or "called-out ones." The root meaning of "church" is not that of a building, but of people. I repeat. It is not a building.
Church is not a building or a denomination. I repeat, church is not a building or denomination.
We have been called out of this world. We are called to be citizens of the country where Jesus is King. Jesus is our master in this assemble of called out citizens. Jesus has called us out to be His citizens. Jesus is our Master and King. We are not of this world.
It is ironic that when you ask people what church they attend, they usually identify a denomination and a building. At best, early on, it was a geographic location. This seems clear from Paul who wrote to the churches all the time. Consider these:
I commend to you our sister Phoebe, who is a servant of the church which is at Cenchrea. Romans 1:1
To the church of God which is at Corinth. 1 Corinthians 1:2
To the churches of Galatia. Galatians 1:2
To the church of the Thessalonians in God the Father and the Master Jesus the Messiah: Grace to you and peace. 1 Thessalonians 1:1
Romans 16:5 says "… greet the church that is in their house." Paul refers to the church in their house—not a church building, but a body of believers.
Disciples are sent out by Jesus the Messiah: What is their mission? The church is a creation of God, founded and owned by Jesus the Messiah.
To Peter Jesus said, "I will build My church" (Matthew 16:18)
The church is directed and energized by the Holy Spirit
It is the church's joy to look to God to explain His design for the church and His mission for it. God's mission for the church proves to have several parts.
We need to get to work. There is much to do.
John 15:16  — "You did not choose Me but I chose you, and appointed you that you would go and bear fruit, and that your fruit would remain, so that whatever you ask of the Father in My name He may give to you."
Matthew 9:37–38  — Then He said to His disciples, "The harvest is plentiful, but the workers are few. Therefore beseech the Master of the harvest to send out workers into His harvest."
Luke 10:1–3  —  Now after this the Master appointed seventy others, and sent them in pairs ahead of Him to every city and place where He Himself was going to come.  And He was saying to them, "The harvest is plentiful, but the laborers are few; therefore beseech the Master of the harvest to send out laborers into His harvest.  Go; behold, I send you out as lambs in the midst of wolves."
John 4:36–38  — "Already he who reaps is receiving wages and is gathering fruit for life eternal; so that he who sows and he who reaps may rejoice together. For in this case the saying is true, 'One sows and another reaps.' I sent you to reap that for which you have not labored; others have labored and you have entered into their labor."
Faith at Work: Jesus is all about the work. We are work for Jesus. Our purpose at work is not to earn a living. Our purpose at work is to win souls for Jesus and disciples others in The Way! Yes, we are to work for Jesus and work hard.