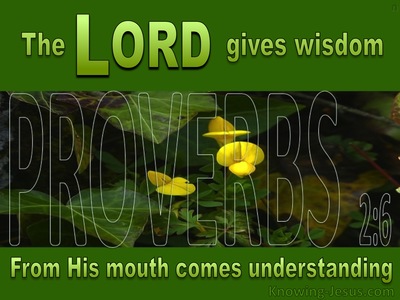 We are all concerned about getting more stuff. There seems to be no end to it.
What should we worry about?
What should we try to accumulate?
How much more do we need?
Knowledge and wisdom would be a good start. That requires an inquisitive mind and a willingness to listen.
On the lips of him who has understanding, wisdom is found, but a rod is for the back of him who lacks sense. The wise lay up knowledge, but the mouth of a fool brings ruin near.
English Standard Version. (2016). (Proverbs 10:13–14). Wheaton, IL: Crossway Bibles.
Insight is the spiritual quality that enables me to appreciate God's mind and will in matters of behavior, truth and providence, especially where right perception is not obvious. Insight is akin to wisdom and understanding. It is the "why" of the heart of God.
It is given by God and is to be sought by believers.
Gaining insight into the Bible is important because the Bible is God's Word. When we open the Bible, we read God's message to us. What could be more important than insight what the Creator of the universe has to say?
Is it insight, wisdom or knowledge? Wisdom, knowledge and insight, are recurring themes in the Bible. They are related but not synonymous.
The dictionary defines wisdom as "the ability to discern or judge what is true, right, or lasting."
Knowledge, on the other hand, is "information gained through experience, reasoning, or acquaintance." Knowledge can exist without wisdom, but not the other way around. One can be knowledgeable without being wise. Knowledge is knowing how to use a gun; wisdom is knowing when to use it and when to keep it holstered.
Insight is the capacity to gain an accurate and deep understanding of someone or something It is a view of the interior of anything; a deep inspection or view; introspection; frequently used with into as in "insight into …". When we have insight, we understand "the why" of something.
God wants us to have knowledge of Him and what He expects of us. In order to obey Him, we have to have knowledge of the commands. But as equally important as having knowledge is having wisdom. Knowing facts about God and the Bible is not all there is to wisdom. Wisdom is a gift from God.
If any of you lacks wisdom, you should ask God, who gives generously to all without finding fault, and it will be given to you
James 1:5
God blesses us with knowledge, wisdom and insight in order for us to glorify Him and use the knowledge we have of Him.
Insight — We have it into the truth about Jesus the Messiah: We seek insight of the Bible for the same reason an avid reader seeks to understand his favorite author's books. The Bible reveals to us the person and glory of God, as expressed in His Son, Jesus the Messiah. The more we read and understand the Bible, the more intimately we know the Author.
Colossians 2:2–3  — That their hearts may be encouraged, having been knit together in love, and attaining to all the wealth that comes from the full assurance of understanding, resulting in a true knowledge of God's mystery, that is, the Messiah Himself, in whom are hidden all the treasures of wisdom and knowledge.
John 16:12–15  — Jesus says — "I have many more things to say to you, but you cannot bear them now. But when He, the Spirit of truth, comes, He will guide you into all the truth; for He will not speak on His own initiative, but whatever He hears, He will speak; and He will disclose to you what is to come. He will glorify Me, for He will take of Mine and will disclose it to you. All things that the Father has are Mine; therefore I said that He takes of Mine and will disclose it to you."