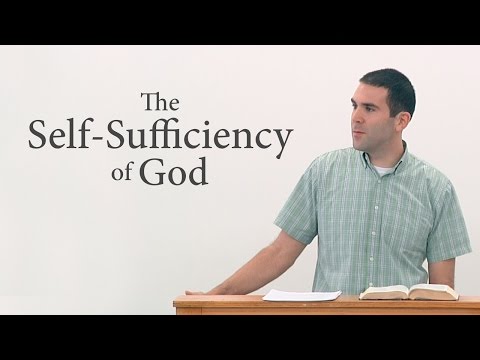 God is God and He is perfect. There is nothing God needs from us. There is nothing we can do to improve on God. God is sufficient unto Himself.
Jesus is God's son. Jesus perfectly embodies everything that God desires and wants.
God is in a good mood. God is in the blessing business. Everything works for our good.
May we receive God's blessing.
The blessing of Yahweh [the Lord] makes rich, and he adds no sorrow with it.
English Standard Version. (2016). (Proverbs 10:22). Wheaton, IL: Crossway Bibles.
God doesn't need us. God didn't create the world, the oceans, the tigers, or people because he was desperately lonely or lacking. He didn't create us to make up for a deficiency in his character or attributes. Rather, God is self-existent and self-sufficient. Theologians call this attribute of God his aseity.
Self-Sufficient God – The Definition: God, being identified and defined as self-sufficient, means He possesses within Himself every quality, ability, and supernatural command with never-ending measure. Every attribute or mighty and wonderful power is His endlessly. God wants for nothing and lacks nothing; He is complete.
There are many names for God in the Bible. Each name is actually a word that describes His nature and attributes. For instance, in the original Hebrew text, "El-Shaddai" was first used in Genesis 17. It is used throughout the Bible and is still an accepted name for God today among Christians and Jews.
"The most simple translation is 'God' ('el), THE ALL-MIGHTY ONE (shadday), to clearly differentiate the One true God from other 'gods, as 'el' was a common term for any god at that time, age and area. It is significant that it is THE Name that God uses in reference to Himself as He begins to set aside a people for Himself, to be uniquely His as a possession, and to be uniquely His as His representatives on this planet. It was at this point that God revealed Himself as
'THE ALMIGHTY GOD', or
Others names include Jehovah Rapha—the LORD who heals; Jehovah Jireh—the LORD who provides. For as many things as you can name, He has a name declaring His ability to fulfill it.
The true and living God lacks no good thing. He isn't advanced or improved by our existence or efforts. Moreover, God is not dependent upon his creation; rather he is independent from his creation. Michael Horton writes, "The world is not necessary for God's being or happiness."
When the apostle Paul addressed the Areopagus in Athens, he said,
The God who made the world and everything in it, being Master [Lord] of heaven and earth, does not live in temples made by man, nor is he served by human hands, as though he needed anything, since he himself gives to all mankind life and breath and everything
(Acts 17:24-25).
We would do well to consider a theology and worship and ministry that sees God as self-sufficient, self-existent, and complete in all respects.
Men may pride themselves in serving God, but it is God who serves man. If God is God, then He is self-sufficient and needs nothing that man can supply. Not only do the temples not contain God, but the services in the temples add nothing to God! In two brief statements, Paul completely wiped out the entire religious system of Greece!
It is God who gives to us what we need: "life, and breath, and all things." God is the source of every good and perfect gift. He gave us life and He sustains that life by His goodness. It is the goodness of God that should lead men to repentance. But instead of worshiping the Creator and glorifying Him, men worship His creation and glorify themselves.
Everything exists for the glory of God. He is the Creator and Sustainer of all things. "In him we live and move and have our being" (Acts 17:28). Paul writes, "For from him and through him and to him are all things. To him be glory forever" (Rom. 11:36). Peter concurs: "in order that in everything God may be glorified through Jesus Christ" (1 Pet. 4:11).
Jonathan Edwards (1703–1758) argued that the end (ultimate purpose) for which God created the world was for the praise of his glory. Thus, our chief end and God's chief end are one and the same: to glorify God and to enjoy him forever (Westminster Shorter Catechism, Q. 1).
But a quick glance at the American Christian landscape reveals something completely foreign to this. Many worship services seem to be more interested in entertainment than truth and more geared toward gimmicks than God. Much of the ministry and even counseling today seems to be more influenced by Oprah than Jesus.
Christian music isn't off the hook. The popular Christian song "Above All" references Christ's death on the cross and states, "You took the fall and thought of me above all." Jesus thought about me above all? News flash: Jesus didn't save you because he has good taste; he saved you for the praise of his glory.