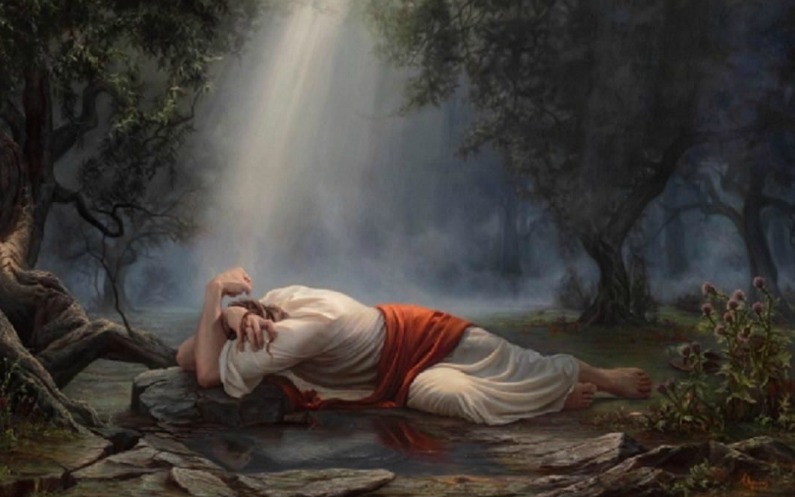 The idea of a sacrificial system might seem strange to us today, the concept of payment or restitution is still one we can easily understand. We know that the wages of sin is death and that our sin separates us from God.
We also know the Bible teaches we are all sinners and none of us is righteous before God. Because of our sin, we are separated from God, and we stand guilty before Him. The only hope we can have is if God  provides a way for us to be reconciled to Himself, and that is what He did in sending His Son Yeshua [Jesus] the Messiah to die on the cross. The Messiah died to make atonement for sin and to pay the penalty of the sins of all who believe in Him.
Jesus knew why He had come to earth. Jesus was fully committed to doing the will of God. Jesus was fully submissive and extremely vulnerable. The fate of our salvation lay completely on Him and His obedience. If Jesus did not accomplish it, it would not be done.
Good news: Jesus was faithful to God, His Father. Jesus saw it through for us. That God would sacrifice His Son for us is a huge deal. God knew it would work. Jesus, being fully human and fully God, suffered and succeeded. That is stunning.
Matthew 26:38–39 — 38 Then He said to them, "My soul is deeply grieved, to the point of death; remain here and keep watch with Me." And He went a little beyond them, and fell on His face and prayed, saying, "My Father, if it is possible, let this cup pass from Me; yet not as I will, but as You will."
John 3:27 — 27 John answered and said, "A man can receive nothing unless it has been given him from heaven.
1 Corinthians 1:27 — 27 but God has chosen the foolish things of the world to shame the wise, and God has chosen the weak things of the world to shame the things which are strong,
Philippians 2:7–8 — 7 but emptied Himself, taking the form of a slave, and being made in the likeness of men. 8 Being found in appearance as a man, He humbled Himself by becoming obedient to the point of death, even death on a cross.
Hebrews 4:15 — 15 For we do not have a high priest who cannot sympathize with our weaknesses, but One who has been tempted in all things as we are, yet without sin.
Digging Deeper – What is Sin?
If you want to dig deeper, here are some additional resources. One of the themes is understanding that sin is missing the mark. I see that as missing God's goal for our lives. Sin, the Greek hamartia, is generally associated with military usage and means to "miss the mark." It indicates failing to make a bull's-eye. In moral and ethical contexts, it means to fail of one's purpose, to go wrong, or to fail to live according to an accepted standard or ideal i.e., God's goal. Sin is the failure to be what we ought to be and could be.
Wayne Grudem Systematic Theology Definition
The history of the human race as presented in Scripture is primarily a history of mankind in a state of sin and rebellion against God and of God's plan of redemption to bring many people back to him. Therefore, it is appropriate now to consider the nature of the sin that separates man from God.
We may define sin as follows: sin is any failure to conform to the moral law of God in act, attitude, or nature. Sin is here defined in relation to God and his moral law. Sin includes not only individual acts, such as stealing, lying, and committing murder, but also attitudes that are contrary to the attitudes God requires of us. We see this already in the Ten Commandments, which not only prohibit sinful actions but also wrong attitudes: "You shall not covet your neighbor's house; you shall not covet your neighbor's wife, or his male servant, or his female servant, or his ox, or his donkey, or anything that is your neighbor's" (Exod. 20:17). Here God specifies that a desire to steal or to commit adultery is also sin in his sight. The Sermon on the Mount prohibits sinful attitudes such as anger (Matt. 5:22) or lust (Matt. 5:28). Paul lists attitudes such as jealousy, anger, and selfishness (Gal. 5:20) as works of the flesh opposed to desires of the Spirit (Gal. 5:20). A life that is pleasing to God is one that has moral purity not only in its actions but also in its desires of the heart. In fact, the greatest commandment of all requires that our heart be filled with an attitude of love for God: "You shall love the Lord your God with all your heart and with all your soul and with all your mind and with all your strength" (Mark 12:30).[1]
Baker Encyclopedia
Evildoing seen in religious perspective, not only against humanity, society, others, or oneself, but against God. The concept of God, therefore, gives to the idea of sin its many-sided meaning. Other gods, conceived as capricious and characterless, exercised unlimited power in unbridled behavior; they engendered no such sense of sin as did Israel's one God, holy, righteous, and utterly good. This religious conception of wrongdoing with the terminology it created, persists into the NT.
Israel's God sets the ideal, the standard for human behavior, and the most frequent biblical words for sin (Heb ḥāṭā'; Gk hamartēma) meant originally "to miss the mark, fail in duty" (Rom 3:23). As Lawgiver, God sets limits to man's freedom; another frequent term (Heb 'ābar; Gk parabasis) describes sin as transgression, overstepping those set limits. Similar terms are peṡa' (Heb) (rebellion, transgression); 'āṡam (Heb) (trespassing upon God's kingly prerogative, incurring guilt); paraptōma (Gk) (a false step out of the appointed way, trespass on forbidden ground).[2]
Lexham Bible Dictionary
The broad concept of sin as failing to live up to an expected standard of conduct or as a violation of cultural customs or laws can be seen in every culture and society throughout history. Various religions also see sin as a violation of the divine will. This concept has developed in various ways in different societies. By examining the background of the Old Testament and the New Testament, as well as the ancient Jewish and Christian canons themselves, we can see particular ways in which early Jews and Christians came to understand sin.
In some contexts, particularly in some Old Testament texts, the term "sin" is primarily used in reference to external actions performed by human beings (e.g., murder, adultery). In other parts of the Bible, the term "sin" is expanded to include the inner actions of humans, such as their thoughts and desires. Sin is also often portrayed as an entity not dependent on human actions, such as a state of being in alienation from God or an impersonal force acting within humans or societies against God.[3]
Pocket Dictionary of Apologetics
That fundamental defect or missing of the mark that results when humans fail to trustingly center their lives on God. Sin can be viewed both as a state in which humans are alienated from God and as actions that stem from an unfaithful heart and thus go against God's will. In addition, sin can be understood both as a reality within individuals and as a factor shaping social structures.[4]
Bible Word Study
As defined by the Bible, sin is a violation of God's standard for human behavior. The most frequent biblical words for "sin" speak of violating that standard in some fashion. The Greek equivalent, hamartia meant, originally, "to miss the mark, fail in duty" (Rom. 3:23). As Lawgiver, God sets limits to humanity's freedom; another frequent term (Greek parabasis) describes "sin" as "transgression," which means overstepping those set limits. A similar term is paraptoma (Greek); it denotes "a false step" or "a trespass on forbidden ground." Two other New Testament words are anomia, which means "lawlessness," and paranomia, which means "lawbreaking."[5]
Quotes on Avoidance of sin
I treasure your word in my heart, so that I may not sin against you.
Psalm 119:11 NRSV
So you also must consider yourselves dead to sin and alive to God in Christ Jesus. Let not sin therefore reign in your mortal body, to make you obey its passions. Do not present your members to sin as instruments for unrighteousness, but present yourselves to God as those who have been brought from death to life, and your members to God as instruments for righteousness, or sin will have no dominion over you, since you are not under law but under grace.
Romans 6:11–14 ESV
Encourage one another daily, as long as it is called Today, so that none of you may be hardened by sin's deceitfulness.
Hebrews 3:13 NIV
If hell were on one side and sin on the other, I would rather leap into hell than willingly sin against my God.
St Anselm of Canterbury
Kill sin before it kills you.
Richard Baxter
It is the great moment of our lives when we decide that sin must die right out, not be curbed or suppressed or countenanced, but crucified.
Oswald Chambers
Sin is to be overcome, not so much by direct opposition to it as by cultivating opposite principles. Would you kill the weeds in your garden, plant it with good seed; if the ground be well occupied there will be less need of the hoe.
Abraham Fuller
When thou attackest the roots of sin, fix thy thought more upon the God whom thou desirest than upon the sin which thou abhorrest.
Walter Hilton
It would be better to eschew sin than to flee death.
Thomas à Kempis
To mourn a mischief that is past and gone / Is the next way to draw new mischief on.
William Shakespeare[6]
[1] Grudem, W. (2020). Systematic Theology: An Introduction to Biblical Doctrine (Second Edition, p. 619). Grand Rapids, MI: Zondervan Academic.
[2] White, R. E. O. (1988). Sin. In Baker encyclopedia of the Bible (Vol. 2, p. 1967). Grand Rapids, MI: Baker Book House.
[3] Henderson, J. J. (2016). Sin. In J. D. Barry, D. Bomar, D. R. Brown, R. Klippenstein, D. Mangum, C. Sinclair Wolcott, … W. Widder (Eds.), The Lexham Bible Dictionary. Bellingham, WA: Lexham Press.
[4] Evans, C. S. (2002). In Pocket dictionary of apologetics & philosophy of religion (p. 107). Downers Grove, IL: InterVarsity Press.
[5] Carpenter, E. E., & Comfort, P. W. (2000). In Holman treasury of key Bible words: 200 Greek and 200 Hebrew words defined and explained (p. 392). Nashville, TN: Broadman & Holman Publishers.
[6] Manser, M. (Ed.). (2016). Christian Quotations. Martin Manser.