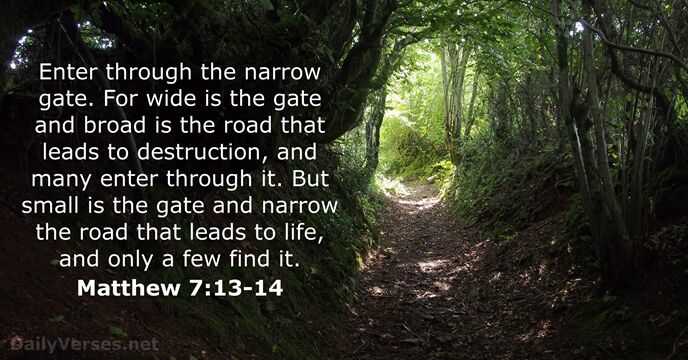 This Jesus saying is a part of what I call the Jesus Manifesto (Matthew 5 – 7) aka the Sermon on the Mount. It eats at the religious life myth of leading a good life.
Jesus warns us that it will not be easy. Jesus is pulling no punches here. It will be hard.
God's goal: For example, it may be easy to not commit adultery. It will be hard not to lust. Few are going to find God. Most Christians won't. Jesus really wants us to find life. He is doing us a big favor be letting us know it will not be easy.
I did not know how tough it would be. May I be one of the few. May you be one of the few.
So, whatever you wish that others would do to you, do also to them, for this is the Law and the Prophets. "Enter by the narrow gate. For the gate is wide and the way is easy that leads to destruction, and those who enter by it are many. For the gate is narrow and the way is hard that leads to life, and those who find it are few.
Source: Matthew 7:12-14 (ESV)
Why wouldn't I enter the "wide gate"? I have many choices. I can enter the wide gate. That would be the easiest. While it is crowded, many choose to go that way. It is the popular one. The opinion polls are very favorable. It is comforting to be with so many likeminded travelers. WARNING: It leads to destruction.
So what about this "narrow gate" option? It is a hard life. It will always be a hard life. It isn't easy to find as the "wide gate". It is the only option that leads to life but it will be lonely, as very few find it. But ah, the benefit of life.
Is the "narrow gate" worth it? Yes, that is the only way to life! Jesus is "the way, the truth and the life". May I choose Jesus and the narrow way today. This is God's goal for me.