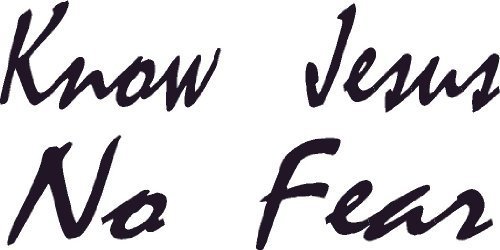 Fear can overtake us. Anxiety challenges our ability and attitude. Some days it is like a flood.
Fear can be held back with a dike. It is the dike of courage and supernatural power given us by the Holy Spirit.
The Apostle Peter calls on us to "Cast all your anxiety on him because he cares for you." (1 Peter 5:7 ) Knowing that God is in a good mood is the foundation of the dike of courage. God cares for me personally.
The great Pastor, Dr. Martin Luther King, Jr. knew that foundation.
We must build dikes of courage to hold back the flood of fear. ~Martin Luther King, Jr.
There is a great conundrum around the issue of fear. God says that I should fear Him and that I should "fear not". So what is up with all of this? Jesus lays it all out with this:
Do not fear those who kill the body but are unable to kill the soul; but rather fear Him who is able to destroy both soul and body in hell.
 (Matthew 10:28)
Almost immediately after that, Jesus says
So do not fear; you are more valuable than many sparrows.
The Greek word in Matthew 10 is phobéō  –  meaning to fear, withdraw, flee from, avoid.
For the unbeliever, the fear of God is the fear of the judgment of God and eternal death, which is eternal separation from God. For the believer, the fear of God is something much different. The believer's fear is reverence of God. Hebrews 12:28-29 is a good description of this: "Therefore, since we are receiving a kingdom that cannot be shaken, let us be thankful, and so worship God acceptably with reverence and awe, for our 'God is a consuming fire.'" This reverence and awe is exactly what the fear of God means for the disciples. This is the motivating factor for us to surrender to the Creator of the Universe.
Faith at Work: God and Jesus have tons to say about fear. Much of the time, the message is don't be afraid, have faith. We need to focus on having more faith. We need to get it into our heart the God is good and in a good mood. Knowing that and believing that removes the fear. God has good things in store for us. We can demonstrate that in our everyday walk of faith at work.
Matthew 10:29–31 — "Are not two sparrows sold for a cent? And yet not one of them will fall to the ground apart from your Father. But the very hairs of your head are all numbered. So do not fear; you are more valuable than many sparrows."
Matthew 8:26 —He said to them, "Why are you afraid, you men of little faith?" Then He got up and rebuked the winds and the sea, and it became perfectly calm.
Mark 6:49–51 —But when they saw Him walking on the sea, they supposed that it was a ghost, and cried out; for they all saw Him and were terrified. But immediately He spoke with them and said to them, "Take courage; it is I, do not be afraid." Then He got into the boat with them, and the wind stopped; and they were utterly astonished,
John 14:27 — 27 "Peace I leave with you; My peace I give to you; not as the world gives do I give to you. Do not let your heart be troubled, nor let it be fearful.
Deuteronomy 1:21 — 21 'See, the Master your God has placed the land before you; go up, take possession, as the Master, the God of your fathers, has spoken to you. Do not fear or be dismayed.'
Psalm 23:4 — 4 Even though I walk through the valley of the shadow of death, I fear no evil, for You are with me; Your rod and Your staff, they comfort me.
Proverbs 3:25–26 — 25 Do not be afraid of sudden fear Nor of the onslaught of the wicked when it comes; 26 For the Master will be your confidence And will keep your foot from being caught.
Exodus 14:13 — 13 But Moses said to the people, "Do not fear! Stand by and see the salvation of the Master which He will accomplish for you today; for the Egyptians whom you have seen today, you will never see them again forever.
Deuteronomy 1:29 — 29 "Then I said to you, 'Do not be shocked, nor fear them.
Deuteronomy 7:18–21 — 18 you shall not be afraid of them; you shall well remember what the Master your God did to Pharaoh and to all Egypt: 19 the great trials which your eyes saw and the signs and the wonders and the mighty hand and the outstretched arm by which the Master your God brought you out. So shall the Master your God do to all the peoples of whom you are afraid. 20 "Moreover, the Master your God will send the hornet against them, until those who are left and hide themselves from you perish. 21 "You shall not dread them, for the Master your God is in your midst, a great and awesome God.
Deuteronomy 31:6 — 6 "Be strong and courageous, do not be afraid or tremble at them, for the Master your God is the one who goes with you. He will not fail you or forsake you."
Joshua 11:6 — 6 Then the Master said to Joshua, "Do not be afraid because of them, for tomorrow at this time I will deliver all of them slain before Israel; you shall hamstring their horses and burn their chariots with fire."
Nehemiah 4:14 — 14 When I saw their fear, I rose and spoke to the nobles, the officials and the rest of the people: "Do not be afraid of them; remember the Master who is great and awesome, and fight for your brothers, your sons, your daughters, your wives and your houses."
Psalm 3:6 — 6 I will not be afraid of ten thousands of people Who have set themselves against me round about.
Psalm 34:4 — 4 I sought the Master, and He answered me, And delivered me from all my fears.
Psalm 49:5 — 5 Why should I fear in days of adversity, When the iniquity of my foes surrounds me,
Psalm 56:3 — 3 When I am afraid, I will put my trust in You.
Isaiah 10:24 — 24 Therefore thus says the Master God of hosts, "O My people who dwell in Zion, do not fear the Assyrian who strikes you with the rod and lifts up his staff against you, the way Egypt did.
Isaiah 35:3–4 — 3 Encourage the exhausted, and strengthen the feeble. 4 Say to those with anxious heart, "Take courage, fear not. Behold, your God will come with vengeance; The recompense of God will come, But He will save you."
Isaiah 41:14 — 14 "Do not fear, you worm Jacob, you men of Israel; I will help you," declares the Master, "and your Redeemer is the Holy One of Israel.
Isaiah 43:5 — 5 "Do not fear, for I am with you; I will bring your offspring from the east, And gather you from the west.
Isaiah 44:8 — 8 'Do not tremble and do not be afraid; Have I not long since announced it to you and declared it? And you are My witnesses. Is there any God besides Me, Or is there any other Rock? I know of none.' "
Isaiah 51:12 — 12 "I, even I, am He who comforts you. Who are you that you are afraid of man who dies And of the son of man who is made like grass,
Jeremiah 1:8 — 8 "Do not be afraid of them, For I am with you to deliver you," declares the Master.
Jeremiah 1:17 — 17 "Now, gird up your loins and arise, and speak to them all which I command you. Do not be dismayed before them, or I will dismay you before them.
Jeremiah 30:10 — 10 'Fear not, O Jacob My servant,' declares the Master, 'And do not be dismayed, O Israel; For behold, I will save you from afar And your offspring from the land of their captivity. And Jacob will return and will be quiet and at ease, And no one will make him afraid.
Jeremiah 42:11 — 11 'Do not be afraid of the king of Babylon, whom you are now fearing; do not be afraid of him,' declares the Master, 'for I am with you to save you and deliver you from his hand.
Jeremiah 46:27 — 27 "But as for you, O Jacob My servant, do not fear, Nor be dismayed, O Israel! For, see, I am going to save you from afar, And your descendants from the land of their captivity; And Jacob will return and be undisturbed And secure, with no one making him tremble.
Ezekiel 2:6 — 6 "And you, son of man, neither fear them nor fear their words, though thistles and thorns are with you and you sit on scorpions; neither fear their words nor be dismayed at their presence, for they are a rebellious house.
Ezekiel 3:9 — 9 "Like emery harder than flint I have made your forehead. Do not be afraid of them or be dismayed before them, though they are a rebellious house."
Daniel 10:19 — 19 He said, "O man of high esteem, do not be afraid. Peace be with you; take courage and be courageous!" Now as soon as he spoke to me, I received strength and said, "May my Master speak, for you have strengthened me."