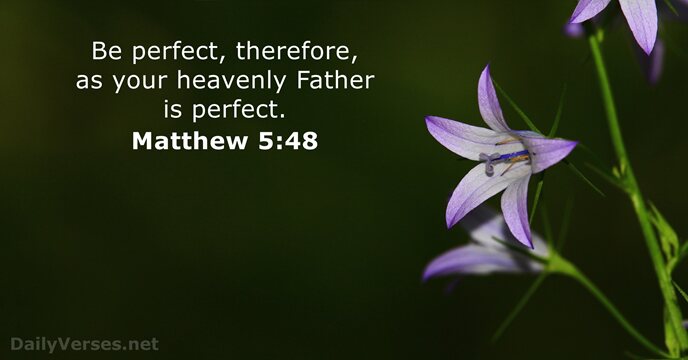 The word perfect in Matthew 5:48 does not imply sinlessly perfect, for that is impossible in this life. It suggests completeness, maturity, as the sons of God. The Father loves His enemies and seeks to make them His children, and we should assist Him!
Our heavenly Father is in a good mood. He always is and never waivers from that feeling. No ups and downs with Him. Always excited to see us. Loves us even when we ignore Him.
Jesus challenges us to know that in our soul. Why? Many of us have an image of fathers, maybe even our own, that doesn't match that.
Faith at work: Jesus is God's Son. He knows the Father. We can rely on what He says. He says that GOD is generous and gracious. Always in a good mood. So, it is true. We must give witness to that in all we do at work.
You therefore must be perfect [mature], as your heavenly Father is perfect [mature].
English Standard Version. (2016). (Mt 5:48). Wheaton, IL: Crossway Bibles.
Jesus gave several reasons for this admonition.
This love is a mark of maturity, proving that we are sons of the Father, and not just little children.
It is Godlike. The Father shares His good things with those who oppose Him.
Matthew 5:45 suggests that our love "creates a climate" of blessings that makes it easy to win our enemies and make them our friends. Love is like the sunshine and rain that the Father sends so graciously.
It is a testimony to others. "What do you more than others?" is a good question. God expects us to live on a much higher plane than the lost people of the world who return good for good and evil for evil. As Christians, we must return good for evil as an investment of love.
God, in His perfection, likewise desires for His children to be "perfect." In the Jesus Manifesto (Sermon on the Mount) Jesus commanded, "Be perfect, therefore, as your heavenly Father is perfect" (Matt. 5:48).
The perfection demanded of followers of Jesus is a state of spiritual maturity or completeness.
Jesus was commanding His followers to strive towards a state of moral and spiritual God-likeness in their lives.
Specifically, He was encouraging His disciples to love their enemies in the same way that God loved them.
By so doing they were demonstrating the perfection or maturity that He desired.
Because of sin within the world, Christians will only realize true perfection in heaven, but the exhortations given in Scripture encourage all to continue to strive towards it in this life.