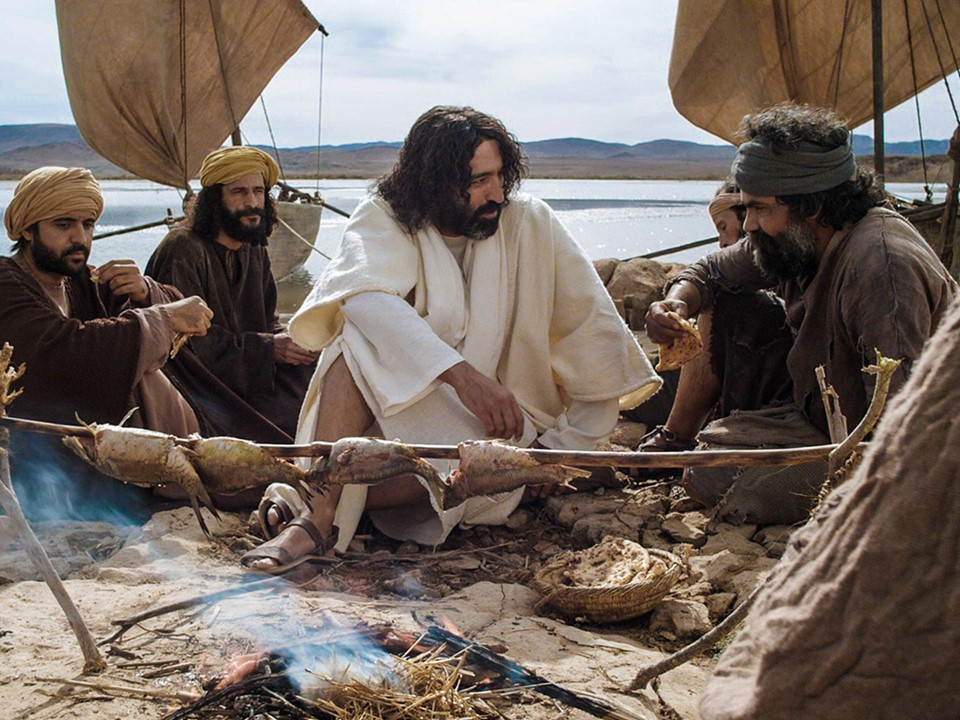 As we go about our work, we can have assurance that Jesus is working right along beside us. Our faith at work is one bound up in the knowledge that Jesus is working as well.
This is the third time Jesus appears to the disciples.
They have been out fishing all night. They have been working.
They have so much on their minds, better to do something productive.
And so they did. They worked.
What does Jesus do? What is he concerned about? Jesus doesn't want their efforts to be in vain so He directs them on where to fish so they don't come back empty handed. Jesus cares that they are hungry and fixes them some breakfast. Jesus works as well.
Then the disciple Jesus loved said to Peter, "It's the Master!" When Simon Peter realized that it was the Master, he threw on some clothes, for he was stripped for work, and dove into the sea. The other disciples came in by boat for they weren't far from land, a hundred yards or so, pulling along the net full of fish. When they got out of the boat, they saw a fire laid, with fish and bread cooking on it.

Jesus said, "Bring some of the fish you've just caught." Simon Peter joined them and pulled the net to shore—153 big fish! And even with all those fish, the net didn't rip.

Jesus said, "Breakfast is ready.
John 21:7-12
How do I see Jesus? Is Jesus a cruel master?
No, Jesus cares about me.
Jesus wants me to catch fish.
Jesus wants me to have breakfast.
Jesus is working like I am. There is no goofing off.
Jesus shows us how to work.
God is Good and in a good mood. Jesus is making me breakfast! That is how Jesus rolls.
If that is how God clothes the grass of the field, which is here today and tomorrow is thrown into the fire, will he not much more clothe you—you of little faith? So do not worry, saying, 'What shall we eat?' or 'What shall we drink?' or 'What shall we wear?' For the pagans run after all these things, and your heavenly Father knows that you need them.
Matthew 6:30-32