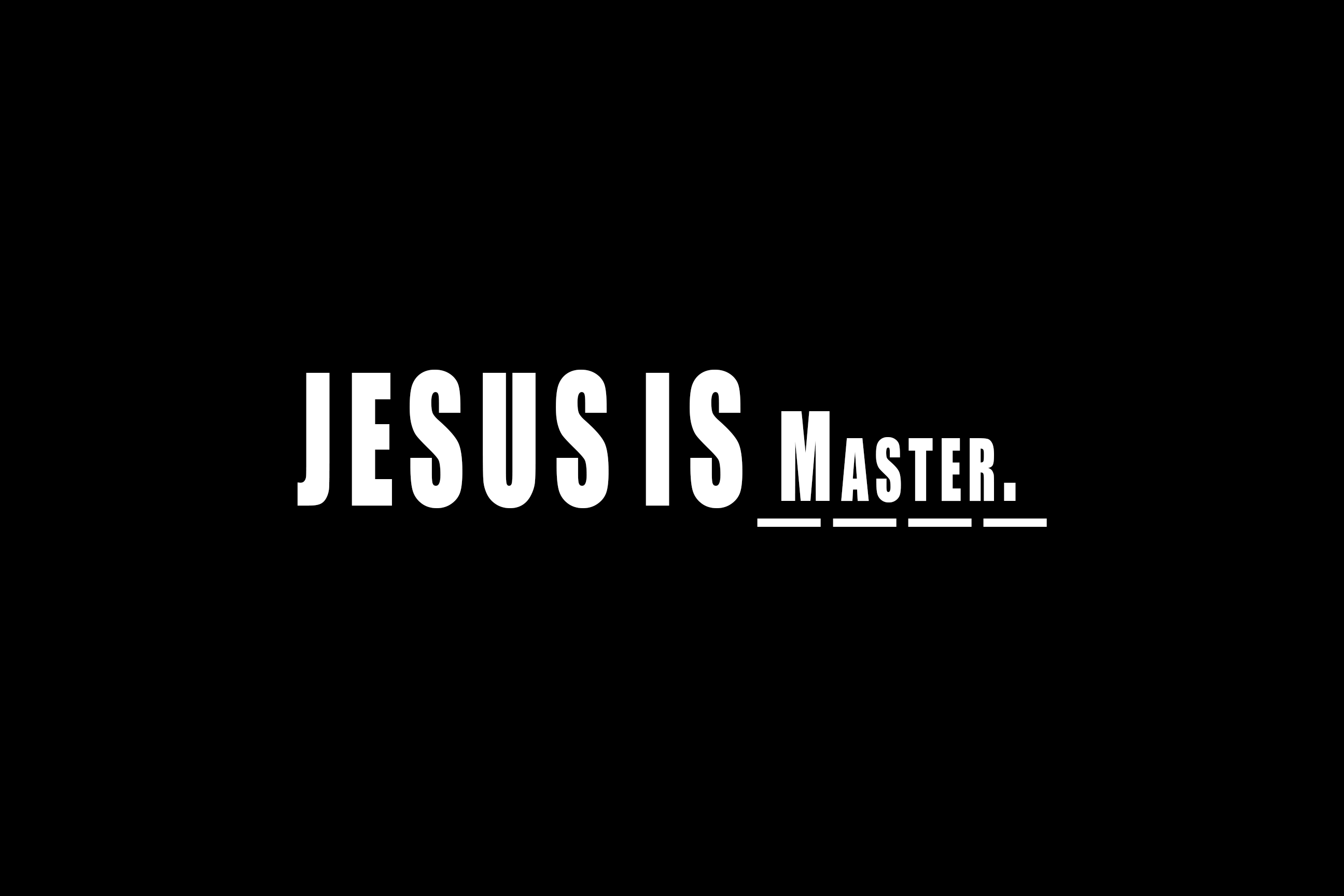 Jesus is in charge. God has put Him in charge. He is Master [Lord]. He reigns as the head of God's kingdom.
Jesus is Master [Lord]. It is the truth, whether people acknowledge the fact. He is more than the Messiah, more than the Savior; He is the Master of all. Someday, all will submit to that truth: "God exalted him to the highest place and gave him the name that is above every name, that at the name of Jesus every knee should bow, in heaven and on earth and under the earth, and every tongue acknowledge that Jesus the Messiah [Christ] is Master [Lord], to the glory of God the Father" (Philippians 2:9–11).
Lord or Master? The Greek word traditionally translated Lord is Kurios. A better translation is Master.". So here is a fundamental question: "What is the foundational reality that defines what it means to be a disciple? What is the fundamental reality that distinguishes the believer's relationship to Jesus? What is our great confession in three words?" Jesus is Master (Lord).
In fact, if you want to be saved, Romans 10:9 and 10 says, "You confess Jesus as Master (Lord)." Kuriosis the corresponding word to doulos. Kurios is a title and means "master." Doulos is "slave." You can no more eliminate doulos from the believer's relationship to the Master than you could eliminate kurios.
We hear a lot about the issue of the Mastership of the Messiah to try to help people who think you can become a disciple without acknowledging Jesus as Master (Master), which is an impossible thing. Nonetheless it's advocated. And the simple answer to that is this. If He is Master, which is to say He is my Master, then I am His slave. There's no such thing as a master with no slaves or a slave with no master. And 1 Corinthians 12:3 says, "We call Jesus Master (Lord) by the Spirit of God."
After the resurrection, the title Master [Lord] as applied to Jesus, became much more than a title of honor or respect. Saying, "Jesus is Master [Lord]," became a way of declaring Jesus' deity reign as the anointed Messiah and King. It began with Thomas' exclamation when Jesus appeared to the disciples after His resurrection: "Thomas said to him, 'My Master [Lord]and my God!'" (John 20:28). From then on, the apostles' message was that Jesus is Master [Lord], meaning "Jesus is God."
Peter's sermon on the Day of Pentecost contained that theme: "Let all Israel be assured of this: God has made this Jesus, whom you crucified, both Master [Lord] and Messiah" (Acts 2:36). Later, in Cornelius's house, Peter declared that Jesus is "Master [Lord] of all" (Acts 10:36). Note how in Romans 10:9 Jesus' role as Master is linked to His resurrection: "If you declare with your mouth, 'Jesus is Master [Lord],' and believe in your heart that God raised him from the dead, you will be saved."
The statement "Jesus is Master [Lord]" means that Jesus is God. Jesus has "all authority in heaven and on earth" (Matthew 28:18). He is Lord of the Sabbath (Luke 6:5). He is "our only Sovereign and Lord" (Jude 1:4). He is, in fact, the Lord of lords (Revelation 17:14).
Matthew 28:18 (CSB) — 18 Jesus came near and said to them, "All authority has been given to me in heaven and on earth.
Daniel 7:13–14 (CSB) — 13 I continued watching in the night visions, and suddenly one like a son of man was coming with the clouds of heaven. He approached the Ancient of Days and was escorted before him. 14 He was given dominion and glory and a kingdom, so that those of every people, nation, and language should serve him. His dominion is an everlasting dominion that will not pass away, and his kingdom is one that will not be destroyed.
Luke 10:22 (CSB) — 22 All things have been entrusted to me by my Father. No one knows who the Son is except the Father, and who the Father is except the Son, and anyone to whom the Son desires to reveal him."
John 3:35 (CSB) — 35 The Father loves the Son and has given all things into his hands.
John 17:2 (CSB) — 2 since you gave him authority over all people, so that he may give eternal life to everyone you have given him.
Acts 10:36 (CSB) — 36 He sent the message to the Israelites, proclaiming the good news of peace through Jesus the Messiah—he is Master of all.
Romans 14:9 (CSB) — 9 the Messiah died and returned to life for this: that he might be Master over both the dead and the living.
1 Corinthians 15:27 (CSB) — 27 For God has put everything under his feet. Now when it says "everything" is put under him, it is obvious that he who puts everything under him is the exception.
Ephesians 1:20–22 (CSB) — 20 He exercised this power in the Messiah by raising him from the dead and seating him at his right hand in the heavens—21 far above every ruler and authority, power and dominion, and every title given, not only in this age but also in the one to come. 22 And he subjected everything under his feet and appointed him as head over everything for the church,
Philippians 2:9–10 (CSB) — 9 For this reason God highly exalted him and gave him the name that is above every name, 10 so that at the name of Jesus every knee will bow— in heaven and on earth and under the earth—
Colossians 1:15–20 (CSB) — 15 He is the image of the invisible God, the firstborn over all creation. 16 For everything was created by him, in heaven and on earth, the visible and the invisible, whether thrones or dominions or rulers or authorities— all things have been created through him and for him. 17 He is before all things, and by him all things hold together. 18 He is also the head of the body, the church; he is the beginning, the firstborn from the dead, so that he might come to have first place in everything. 19 For God was pleased to have all his fullness dwell in him, 20 and through him to reconcile everything to himself, whether things on earth or things in heaven, by making peace through his blood, shed on the cross.