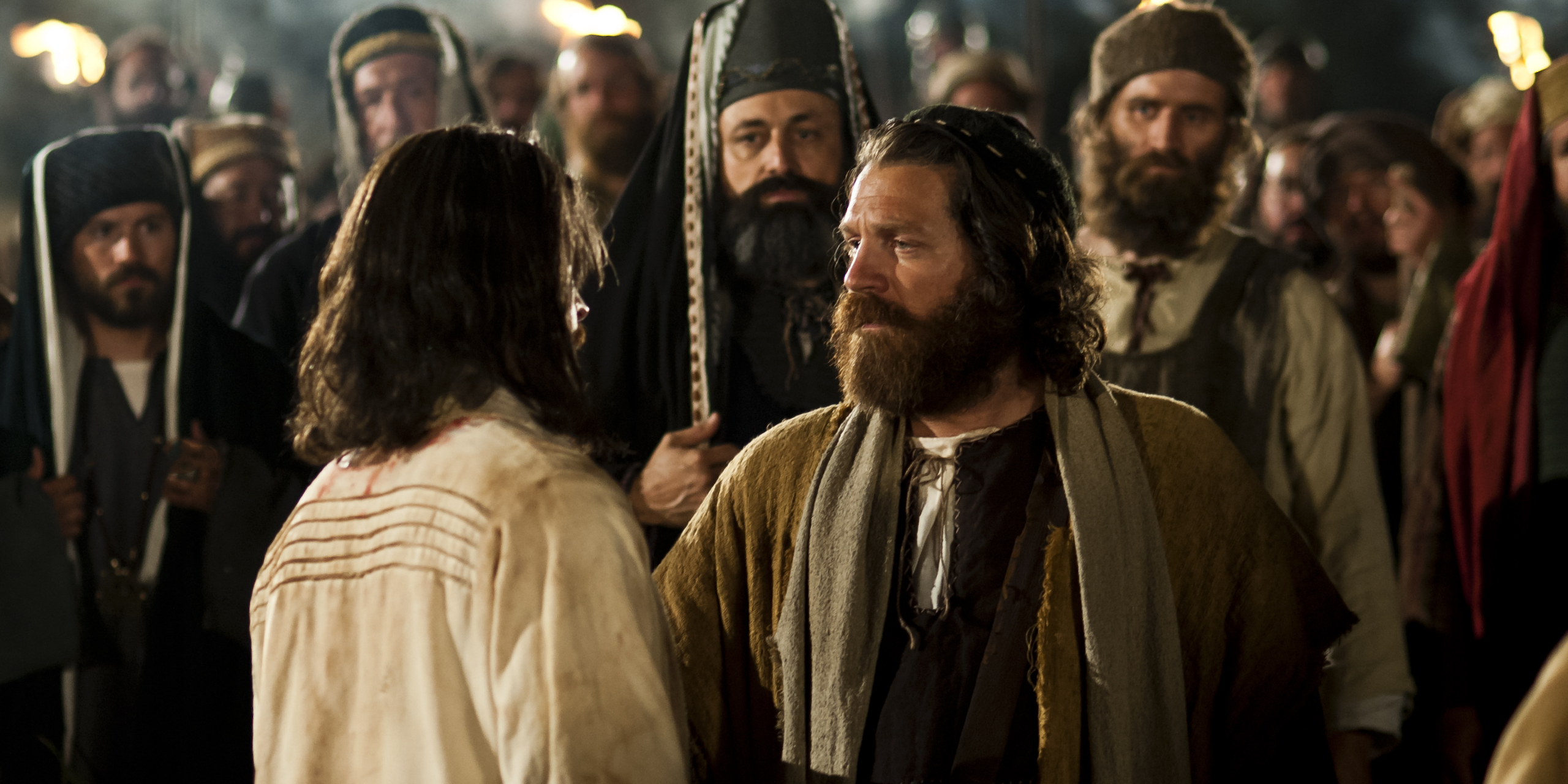 What a horrible thing to do. Judas betrayed Jesus. The very Jesus who chooses him to be an Apostle. Betrayal is the treacherous exposing or deceiving of people by those they formerly trusted. It is usually associated with an enemy masquerading as a friend, or with a broken or abused relationship. Jesus the Messiah suffered betrayal and it can be expected by his followers.
Then one of the Twelve—the one called Judas Iscariot—went to the chief priests and asked, "What are you willing to give me if I deliver Jesus over to you?" So they counted out for him thirty pieces of silver. From then on Judas watched for an opportunity to hand him over.
Matthew 26:14-19
The Greek word is παραδίδωμι, paradídōmi and means to properly, to give by turning over ("hand over from"), i.e. deliver over with a sense of close (personal) involvement.
Jesus knew that Judas would betray Him and personally turn Him over to the religious leaders. Jesus knew this when He selected Judas. He was one of the twelve disciples who lived with and followed Jesus for three years. He witnessed Jesus' ministry, His teaching, and His many miracles. He was the treasurer for the group and used this trusted position to steal from their resources (John 12:6).
Money was important to Judas. As already mentioned, he was a thief, and, according to Matthew 26:13–15, the chief priests paid him "thirty silver coins" to betray the Lord.
Jesus knew from the very beginning what Judas Iscariot would do. Jesus told His disciples, "Have I not chosen you, the Twelve? Yet one of you is a devil!" (John 6:70). And at the Last Supper, Jesus predicted His betrayal and identified the betrayer: "Jesus answered, 'It is the one to whom I will give this piece of bread when I have dipped it in the dish.' Then, dipping the piece of bread, he gave it to Judas Iscariot, son of Simon" (John 13:26).
Jesus said that Judas Iscariot was not "clean"; i.e., he had not been born again and was not forgiven of his sins (John 13:10–11). In fact, Judas was empowered to do what he did by the devil himself: "As soon as Judas took the bread [that Jesus had given him], Satan entered into him" (John 13:27).
The other disciples had no clue that Judas Iscariot harbored treacherous thoughts. When Jesus mentioned a betrayer in their midst, the other disciples worried that it was they who would prove disloyal (John 13:22). No one suspected Judas. He was a trusted member of the Twelve. Even when Jesus told Judas, "What you are about to do, do quickly," (John 13:27), and Judas left the Last Supper, the others at the table simply thought Judas had been sent to buy more food or to give something to charity (verses 28–29).
Judas Iscariot betrayed the Lord with a kiss, perfectly in keeping with his brazen duplicity (Luke 22:47–48). Of course, the kiss was a sign of friendship. After committing his atrocious act, Judas "was seized with remorse and returned the thirty silver coins to the chief priests and the elders" (Matthew 27:3). But we learn that remorse does not equal repentance—rather than make amends or seek forgiveness, "he went away and hanged himself" (Matthew 27:5).
Judas Iscariot fulfilled the prophecy of Psalm 41:9, "Even my close friend, someone I trusted, one who shared my bread, has turned against me" (cf. John 13:18). Yet Judas was fully responsible for his actions. Jesus said, "The Son of Man will go just as it is written about him. But woe to that man who betrays the Son of Man! It would be better for him if he had not been born" (Matthew 26:24).
The chief priests took the "blood money" (Matthew 27:6–8) from Judas and bought a potter's field as a place for burying foreigners (thus fulfilling the prophecy of Zechariah 11:12–13). Acts 1:18–19 continues the story of what happened after Judas' death and gives some additional information. Luke reports, "With the reward he got for his wickedness, Judas bought a field; there he fell headlong, his body burst open and all his intestines spilled out. Everyone in Jerusalem heard about this, so they called that field in their language Akeldama, that is, Field of Blood." The additional detail we learn from Luke is that, after Judas hanged himself, his dead body fell into the very field purchased with his ill-gotten gains.
Given the fact of Judas' proximity to Jesus during three years of ministry, it is hard to imagine how he could follow through on such a dastardly betrayal. Judas' story teaches us to guard against small, gradual failings that gain strength and power in our lives and that could open the door to more deadly influences. His story is also a great reminder that appearances can be deceiving. Jesus taught, "Many will say to me on that day, 'Lord, Lord, did we not prophesy in your name and in your name drive out demons and in your name perform many miracles?' Then I will tell them plainly, 'I never knew you. Away from me, you evildoers!'" (Matthew 7:22–23).
Let us dig a little deeper into some of the details.
Matthew 26:21–23 (NASB) — 21 As they were eating, He said, "Truly I say to you that one of you will betray Me." 22 Being deeply grieved, they each one began to say to Him, "Surely not I, Lord?" 23 And He answered, "He who dipped his hand with Me in the bowl is the one who will betray Me.
Matthew 20:17–19 (NASB) — 17 As Jesus was about to go up to Jerusalem, He took the twelve disciples aside by themselves, and on the way He said to them, 18 "Behold, we are going up to Jerusalem; and the Son of Man will be delivered to the chief priests and scribes, and they will condemn Him to death, 19 and will hand Him over to the Gentiles to mock and scourge and crucify Him, and on the third day He will be raised up."
Luke 22:21 (NASB) — 21 "But behold, the hand of the one betraying Me is with Mine on the table."
John 13:11 (NASB) — 11 For He knew the one who was betraying Him; for this reason He said, "Not all of you are clean."
John 13:18 (NASB) — 18 "I do not speak of all of you. I know the ones I have chosen; but it is that the Scripture may be fulfilled, 'He who eats My bread has lifted up his heel against Me.'
Psalm 41:9 (NASB) — 9 Even my close friend in whom I trusted, Who ate my bread, Has lifted up his heel against me.
John 13:21–27 (NASB) — 21 When Jesus had said this, He became troubled in spirit, and testified and said, "Truly, truly, I say to you, that one of you will betray Me." 22 The disciples began looking at one another, at a loss to know of which one He was speaking. 23 There was reclining on Jesus' bosom one of His disciples, whom Jesus loved. 24 So Simon Peter gestured to him, and said to him, "Tell us who it is of whom He is speaking." 25 He, leaning back thus on Jesus' bosom, said to Him, "Lord, who is it?" 26 Jesus then answered, "That is the one for whom I shall dip the morsel and give it to him." So when He had dipped the morsel, He took and gave it to Judas, the son of Simon Iscariot. 27 After the morsel, Satan then entered into him. Therefore Jesus said to him, "What you do, do quickly."
Matthew 26:47–49 (NASB) — 47 While He was still speaking, behold, Judas, one of the twelve, came up accompanied by a large crowd with swords and clubs, who came from the chief priests and elders of the people. 48 Now he who was betraying Him gave them a sign, saying, "Whomever I kiss, He is the one; seize Him." 49 Immediately Judas went to Jesus and said, "Hail, Rabbi!" and kissed Him.
Matthew 27:3–5 (NASB) — 3 Then when Judas, who had betrayed Him, saw that He had been condemned, he felt remorse and returned the thirty pieces of silver to the chief priests and elders, 4 saying, "I have sinned by betraying innocent blood." But they said, "What is that to us? See to that yourself!" 5 And he threw the pieces of silver into the temple sanctuary and departed; and he went away and hanged himself.
Betrayal may be part of Christian experience. Of course, Jesus also warns us about betrayal.
Matthew 10:21 (NASB) — 21 "Brother will betray brother to death, and a father his child; and children will rise up against parents and cause them to be put to death.
Daniel 7:25 (NASB) — 25 'He will speak out against the Most High and wear down the saints of the Highest One, and he will intend to make alterations in times and in law; and they will be given into his hand for a time, times, and half a time.
Matthew 10:35–36 (NASB) — 35 "For I came to set a man against his father, and a daughter against her mother, and a daughter-in-law against her mother-in-law; 36 and a man's enemies will be the members of his household.
Micah 7:6 (NASB) — 6 For son treats father contemptuously, Daughter rises up against her mother, Daughter-in-law against her mother-in-law; A man's enemies are the men of his own household.
God never betrays those who trust in him. Now this is some good news.
Psalm 89:33 (NASB) — 33 "But I will not break off My lovingkindness from him, Nor deal falsely in My faithfulness.
Psalm 118:8 (NASB) — 8 It is better to take refuge in the Lord Than to trust in man.
Psalm 125:1 (NASB) — 1 Those who trust in the Lord Are as Mount Zion, which cannot be moved but abides forever.
Proverbs 29:25 (NASB) — 25 The fear of man brings a snare, But he who trusts in the Lord will be exalted.
Isaiah 26:3–4 (NASB) — 3 "The steadfast of mind You will keep in perfect peace, Because he trusts in You. 4 "Trust in the Lord forever, For in God the Lord, we have an everlasting Rock.
2 Timothy 1:12 (NASB) — 12 For this reason I also suffer these things, but I am not ashamed; for I know whom I have believed and I am convinced that He is able to guard what I have entrusted to Him until that day.