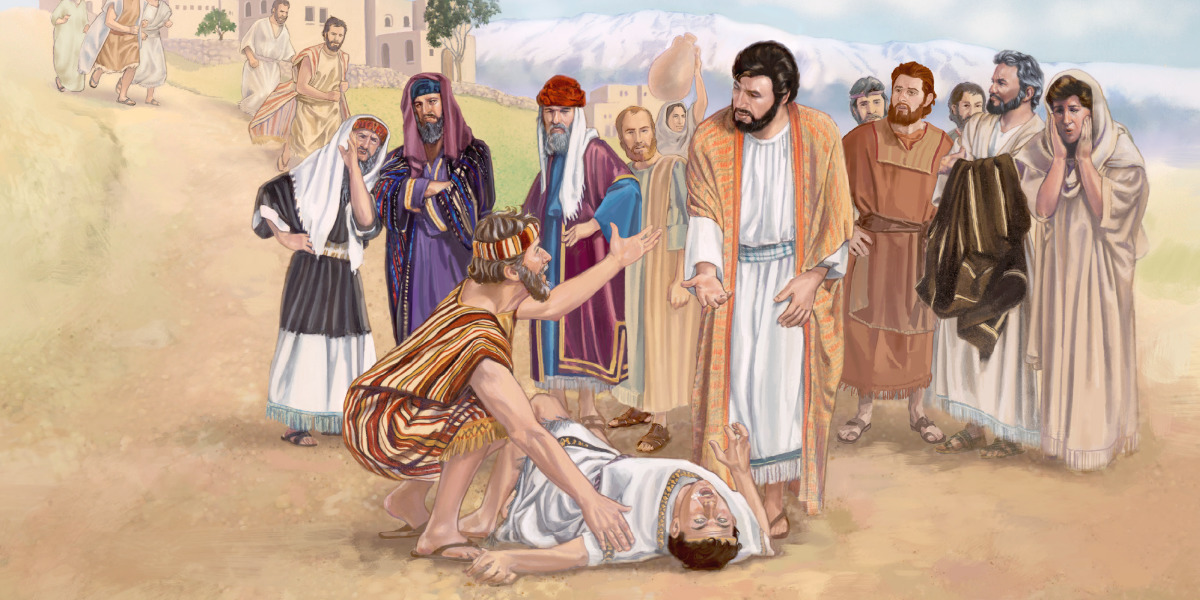 And when they came to the crowd, a man came up to him and, kneeling before him, 15 said, "Master [Lord], have mercy on my son, for he has seizures and he suffers terribly. For often he falls into the fire, and often into the water. 16 And I brought him to your disciples, and they could not heal him." 17 And Jesus answered, "O faithless and twisted generation, how long am I to be with you? How long am I to bear with you? Bring him here to me." 18 And Jesus rebuked the demon, and it came out of him, and the boy was healed instantly. 19 Then the disciples came to Jesus privately and said, "Why could we not cast it out?" 20 He said to them, "Because of your little faith. For truly, I say to you, if you have faith like a grain of mustard seed, you will say to this mountain, 'Move from here to there,' and it will move, and nothing will be impossible for you. [1]
Source: Matthew 17:14-20
The main thing: Jesus is teaching us. He has given us the power of his Holy Spirit. What a gift. What a God we serve.
I don't always succeed as a I learn how Jesus works.
I forget to focus on what God wants me to do at that moment.
I proceed thinking that what worked in the past is what will work now.
That isn't the way of Jesus.
Yelling at demons doesn't always get their attention. Just because that is how I did it last time doesn't mean anything. Jesus always checks with God first. Jesus healed lots of blind people. Never once did Jesus heal the "same way". There is no formula. It is only about what God wants in that moment.
There is much to focus on and to learn. God's goal for me is to be open today to what Jesus is challenging me to do. Jesus gets angry when I don't pay attention. Jesus expects that I will focus and have a true sense of God.
So, what makes a difference? That is what the disciples wanted to know when they could get Jesus alone.
Where should I put my faith. In God? In Jesus? In the Holy Spirit?
Yes! Yes! And Yes!
Jesus challenges us to believe in Him and have faith. This is foundational to my world as a disciple of Jesus.
Why should I believe Jesus? Jesus is the TRUTH. Jesus is the Way to God. Jesus came to pay the price I owe God for missing God's goal for my life. Jesus is Life. Jesus is in charge of God's country.
I can believe Jesus because I can trust Jesus. It is not that Jesus exists but that I can trust Him. He came to die for me out of love. I can rely on Jesus.
John 14:1 — 1 "Do not let your heart be troubled; believe in God, believe also in Me."
John 3:16 — 16 "For God so loved the world, that He gave His only begotten Son, that whoever believes in Him shall not perish, but have eternal life.
John 3:18 — 18 "He who believes in Him is not judged; he who does not believe has been judged already, because he has not believed in the name of the only begotten Son of God.
John 3:36 — 36 "He who believes in the Son has eternal life; but he who does not obey the Son will not see life, but the wrath of God abides on him."
John 6:68–69 — 68 Simon Peter answered Him, "Master, to whom shall we go? You have words of eternal life. 69 "We have believed and have come to know that You are the Holy One of God."
Christian Quotes
The first mark of the gift of faith is the love of truth. Fr Andrew
Great faith is not the faith that walks always in the light and knows no darkness, but the faith that perseveres in spite of God's seeming silences, and that faith will most certainly and surely get its reward. Fr Andrew
To choose what is difficult all one's days as if it were easy, that is faith. W. H. Auden
Do not rejoice in earthly reality, rejoice in Christ, rejoice in his word, rejoice in his law … There will be peace and tranquillity in the Christian heart; but only as long as our faith is watchful; if, however, our faith sleeps, we are in danger. St Augustine of Hippo
Faith is to believe what you do not yet see: the reward for this faith is to see what you believe. St Augustine of Hippo
I am one of those who would rather sink with faith than swim without it. Stanley Baldwin
Faith is a gift which can be given or withdrawn; it is something infused into us, not produced by us. Robert Hugh Benson
You do right when you offer faith to God: you do right when you offer works. But if you separate the two, then you do wrong. For faith without works is dead; and lack of charity in action murders faith, just as Cain murdered Abel, so that God cannot respect your offering. St Bernard of Clairvaux
The act of faith is more than a bare statement of belief, it is a turning to the face of the living God. Christopher Bryant
You can do very little with faith but you can do nothing without it. Nicholas Murray Butler
Fear imprisons, faith liberates; fear paralyzes, faith empowers, fear disheartens, faith encourages; fear sickens, faith heals; fear makes useless, faith makes serviceable—and, most of all, fear puts hopelessness at the heart of life, while faith rejoices in its God. Harry Emerson Fosdick
It is cynicism and fear that freeze life; it is faith that thaws it out, releases it, sets it free. Harry Emerson Fosdick
One of the mysteries of faith is that, although it constitutes our deepest response to God for what he has done for us in Jesus Christ, yet it is, at the same time, a gift from him when we lift our eyes beyond ourselves. He meets us with faith when we want to have faith. John Gunstone
Faith tells us of things we have never seen, and cannot come to know by our natural senses. St John of the Cross
Faith is required of thee, and a sincere life, not loftiness of intellect, nor deepness in the mysteries of God. Thomas à Kempis
I do not want merely to possess faith; I want a faith that possesses me. Charles Kingsley
Faith, like light, should always be simple, and unbending; whilst love, like warmth, should beam forth on every side and bend to every necessity of our brethren. Martin Luther
Believing in God means getting down on your knees. Martin Luther
Faith is the sight of the inward eye. Alexander Maclaren
A man cannot have faith without asking, neither can he ask it without faith. Edward Marbury
Ultimately, faith is the only key to the universe. The final meaning of human existence, and the answers to the questions on which all our happiness depends cannot be found in any other way. Thomas Merton
Faith is illuminative, not operative; it does not force obedience, though it increases responsibility; it heightens guilt, it does not prevent sin; the will is the source of action. John Henry Newman
Belief is a truth held in the mind. Faith is a fire in the heart. Joseph Fort Newton
Faith is what you have in the absence of knowledge. Mary Flannery O'Connor
Faith is nothing at all tangible. It is simply believing God; and, like sight, it is nothing apart from its object. You might as well shut your eyes and look inside to see whether you have sight, as to look inside and discover if you have faith. Hannah Whitall Smith
Onward is faith—and leave the rest to Heaven. Robert Southey
Your faith is what you believe, not what you know. John Lancaster Spalding
Faith is reason at rest in God. Charles Haddon Spurgeon
As the flower is before the fruit, so is faith before good works. Richard Whately
Faith is the root of works. A root that produces nothing is dead. Thomas Wilson[2]
[1] The Holy Bible: English Standard Version. (2016). (Mt 17:14–20). Wheaton, IL: Crossway Bibles.
[2] Manser, M. (Ed.). (2016). Christian Quotations. Martin Manser.