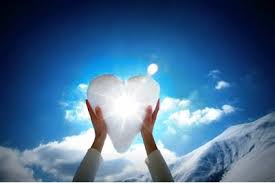 Jesus is clear. His apostle John is clear. My heart testifies to me what I ought to do. There is no lack of clarity what Jesus commands regarding love and compassion. It is written on my heart by God.
The Bible mentions the human heart almost 300 times. In essence, this is what it says: the heart is that spiritual part of us where our emotions and desires dwell.
Jesus is clear in His Manifesto (Matthew 5-7).
"Fortunate [aka Blessed] are the pure in heart, for they shall see God." | Matthew 5:8
I need to be careful not to close my heart off against my brothers and sisters.
Do not be surprised, brethren, if the world hates you. We know that we have passed out of death into life, because we love the brethren. He who does not love abides in death. Everyone who hates his brother is a murderer; and you know that no murderer has eternal life abiding in him. We know love by this, that He laid down His life for us; and we ought to lay down our lives for the brethren. But whoever has the world's goods, and sees his brother in need and closes his heart against him, how does the love of God abide in him? Little children, let us not love with word or with tongue, but in deed and truth. We will know by this that we are of the truth and will assure our heart before Him in whatever our heart condemns us; for God is greater than our heart and knows all things. Beloved, if our heart does not condemn us, we have confidence before God; and whatever we ask we receive from Him, because we keep His commandments and do the things that are pleasing in His sight.
 1 John 3:13-22
The heart is the core of my being, and the Bible sets high importance on keeping my heart pure: "Above all else, guard your heart, for it is the wellspring of life" (Proverbs 4:23).
Jesus calls on us to be pure of heart. We need His regenerating Spirit and the blood of His sacrifice to even have a chance. Being pure in heart involves having a singleness of heart toward God. A pure heart has no hypocrisy, no guile, no hidden motives.
The pure heart is marked by transparency and an uncompromising desire to please God in all things. It is more than an external purity of behavior; it is an internal purity of soul.
May it be so for me.