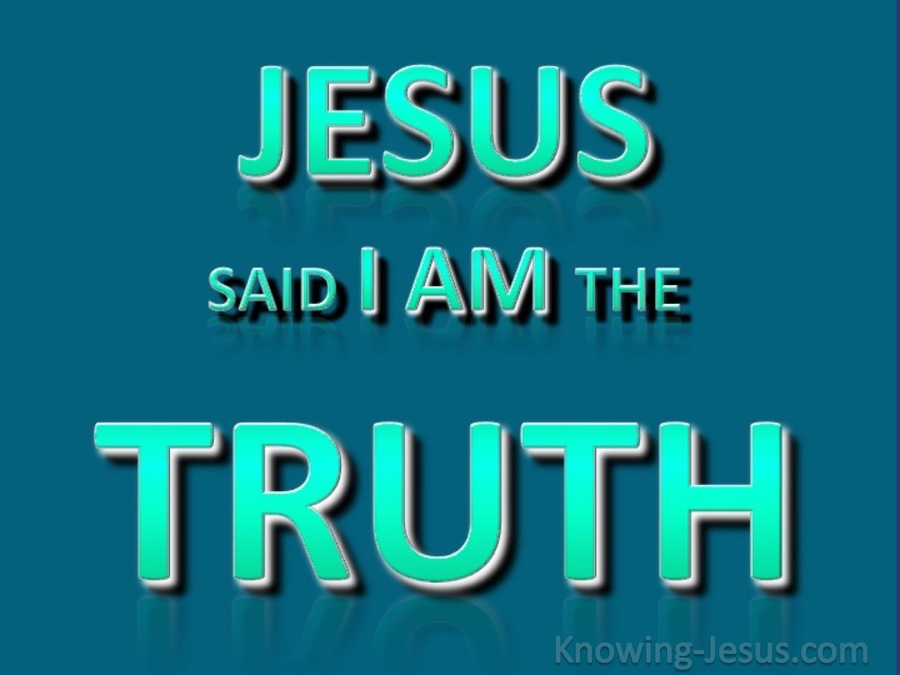 Consider this: Truth is not what makes people feel good. Jesus knows this. Jesus knows truth because He knows the Father and the Father is true. Jesus declares the He is "the Way, the Truth and Life".
No one gets to the truth except through our Master Jesus.
Now that is some VERY good news!
w00t!
He who has received His testimony has set his seal to this, that God is true.
John 3:33
In defining truth, it is first helpful to note what truth is not. Truth is not simply whatever works. This is the philosophy of pragmatism – an ends-vs.-means-type approach. In reality, lies can appear to "work," but they are still lies and not the truth.
Truth is not simply what is coherent or understandable. A group of people can get together and form a conspiracy based on a set of falsehoods where they all agree to tell the same false story, but it does not make their presentation true.
Unfortunately, bad news can be true.
Truth is not what the majority says is true. Fifty-one percent of a group can reach a wrong conclusion.
Truth is not what is comprehensive. A lengthy, detailed presentation can still result in a false conclusion.
Truth is not defined by what is intended. Good intentions can still be wrong.
Truth is not how we know; truth is what we know.
Truth is not simply what is believed. A lie believed is still a lie.
Truth is not what is publicly proved. A truth can be privately known (for example, the location of buried treasure).
Almost two thousand years ago, Truth was put on trial and judged by people who were devoted to lies. In fact, Truth faced six trials in less than one full day, three of which were religious, and three that were legal. In the end, few people involved in those events could answer the question, "What is truth?"
Acts 21:24 — Take them and purify yourself along with them, and pay their expenses so that they may shave their heads; and all will know that there is nothing to the things which they have been told about you, but that you yourself also walk orderly, keeping the Law.
Acts 24:8  — Ordering his accusers to come before you. By examining him yourself concerning all these matters you will be able to ascertain the things of which we accuse him.
Acts 26:25  — But Paul said, "I am not out of my mind, most excellent Festus, but I utter words of sober truth.
Romans 1:18  — For the wrath of God is revealed from heaven against all ungodliness and unrighteousness of men who suppress the truth in unrighteousness.
What is truth? The question Pontius Pilate asked centuries ago needs to be rephrased in order to be completely accurate. The Roman governor's remark "What is truth?" overlooks the fact that many things can have the truth, but only one thing can actually be the Truth. Truth must originate from somewhere.
The stark reality is that Pilate was looking directly at the Origin of all Truth on that early morning over two thousand years ago. Not long before being arrested and brought to the governor, Jesus had made the simple statement "I am the truth" (John 14:6), which was a rather incredible statement. Truth is a person, Jesus the Messiah, not a concept.
How could a mere man be the truth? He couldn't be, unless He was more than a man, which is what He claimed to be. The fact is Jesus' claim was validated when He rose from the dead (Romans 1:4).
John 4:37  — "For in this case the saying is true, 'One sows and another reaps.'
John 18:23  — Jesus answered him, "If I have spoken wrongly, testify of the wrong; but if rightly, why do you strike Me?"
John 19:35  — And he who has seen has testified, and his testimony is true; and he knows that he is telling the truth, so that you also may believe.
Acts 7:1  —  The high priest said, "Are these things so?"
The Greek word for "truth" is aletheia, which literally means to "un-hide" or "hiding nothing." It conveys the thought that truth is always there, always open and available for all to see, with nothing being hidden or obscured. The Hebrew word for "truth" is emeth, which means "firmness," "constancy" and "duration." Such a definition implies an everlasting substance and something that can be relied upon.
Romans 9:1 — I am telling the truth in the Messiah, I am not lying, my conscience testifies with me in the Holy Spirit,
1 Corinthians 15:54  — But when this perishable will have put on the imperishable, and this mortal will have put on immortality, then will come about the saying that is written, "Death is swallowed up in victory.
2 Corinthians 7:14  — For if in anything I have boasted to him about you, I was not put to shame; but as we spoke all things to you in truth, so also our boasting before Titus proved to be the truth.
Galatians 4:16  — So have I become your enemy by telling you the truth?
Titus 1:13  — This testimony is true. For this reason reprove them severely so that they may be sound in the faith,
2 Peter 2:22  — It has happened to them according to the true proverb, "A dog returns to its own vomit," and, "A sow, after washing, returns to wallowing in the mire."
1 John 2:4  — The one who says, "I have come to know Him," and does not keep His commandments, is a liar, and the truth is not in him.
2 John 1–2  — The elder to the chosen lady and her children, whom I love in truth; and not only I, but also all who know the truth, for the sake of the truth which abides in us and will be with us forever.
Truth as opposed to falsehood and lies. Truth may be used to convey a sense of being in accordance with fact or reality, as opposed to being false or in error.
This is the dominant sense of "truth" in the New Covenant (aka Testament). I must know Jesus for Jesus is The Truth!
Therefore, laying aside falsehood, speak truth each one of you with his neighbor, for we are members of one another.
Ephesians 4:25 (NASB)