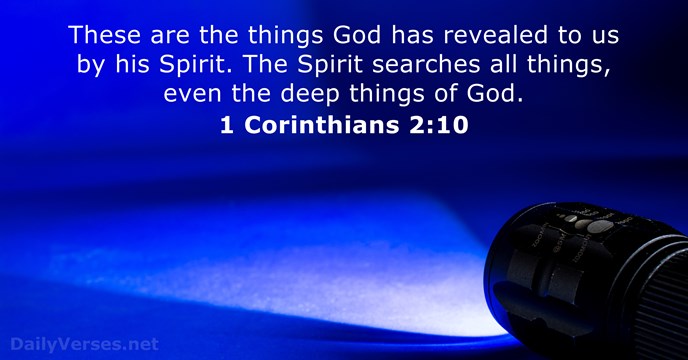 A lot of people are just flitting around the surface. I can be one of them. The Holy Spirit of God is not superficial. He is not content like we can be.
Imagine knowing the depths of God? No seriously, imagine that!!
How can I know that God's plan is for me?
Well, I can do a deep dive into God.
When I am filled with His Spirit, He brings what God has planned.
God is God. Through God's Holy Spirit, we can know what God has in mind for us to do.
Nevertheless [that is, despite the crucifixion of "the Lord of glory"], just as it's written, "Things that an eye hasn't seen and [that] an ear hasn't heard and [that] haven't come up onto the heart of a human being [= haven't entered human reason or imagination], things that God has prepared for those who love him" [Isaiah 64:4]— yet [in contrast with their previous non-revelation] God has revealed [those things] to us through the Spirit. For the Spirit investigates all things, even the deep things of God. [1]
(1 Corinthians 2:10)
I cannot know what is going on within your personality, but your human spirit within you knows. Neither can I know "the deep things of God" unless somehow, I can enter God's personality. I cannot do that—but by His Spirit, God has entered my personality. Through the Holy Spirit, each believer becomes a sharer of the very life of God.
The Holy Spirit knows "the deep things of God" and reveals them to us. First Corinthians 2:10 makes it clear that "the deep things of God" is another description of "the things which God hath prepared for them that love Him" (1 Cor. 2:9). God wants us to know today all the blessings of His grace that He has planned for us.[2]
[1] Gundry, R. H. (2010). Commentary on the New Testament: Verse-by-Verse Explanations with a Literal Translation (p. 637). Peabody, MA: Hendrickson Publishers.
[2] Wiersbe, W. W. (1996). The Bible exposition commentary (Vol. 1, p. 576). Wheaton, IL: Victor Books.
---
We have good news! Want to know how to be saved? Click here or here for more.