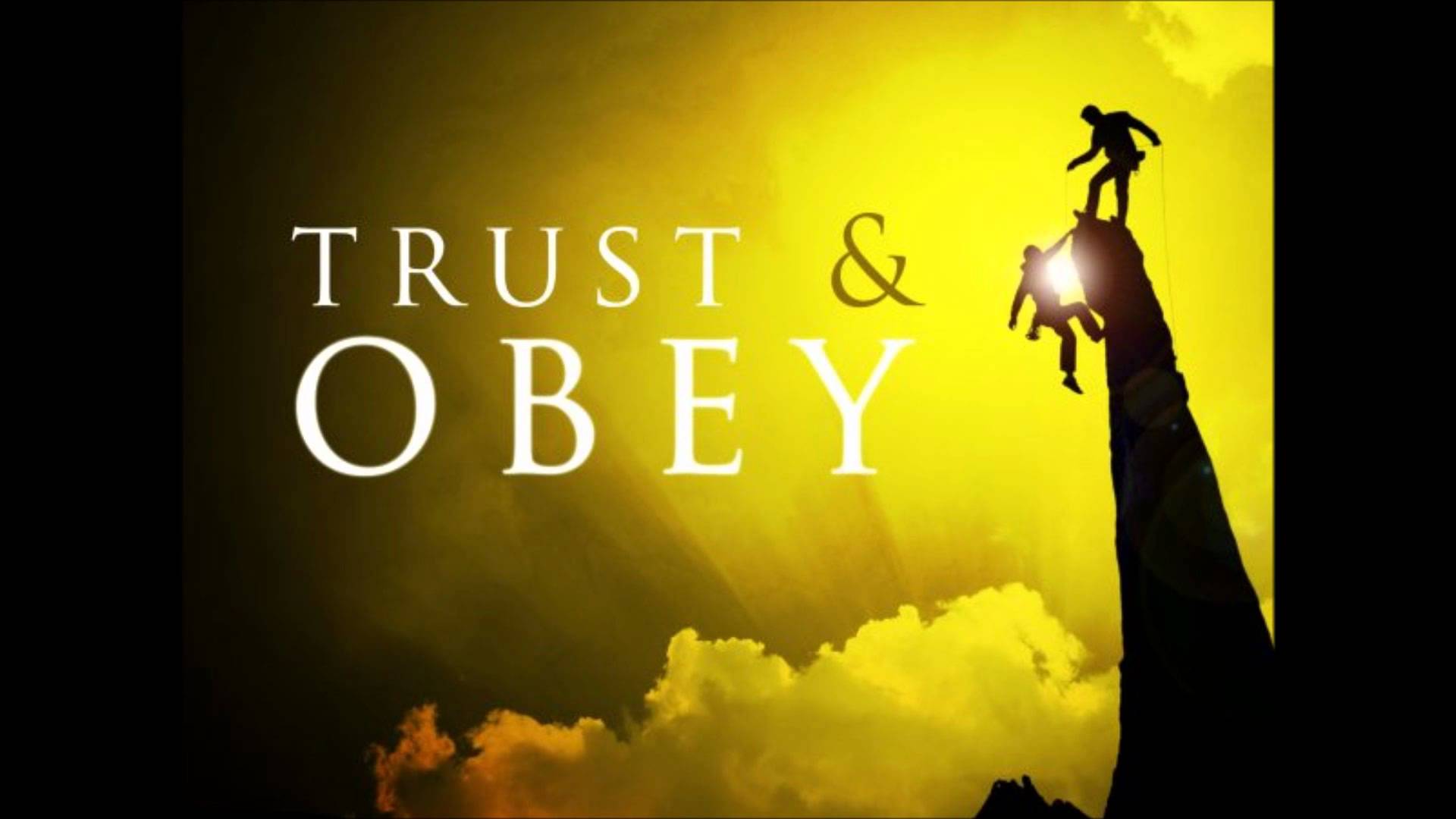 How do we learn trust and obedience? This is not an answer we want to hear. We learn trust and obedience by suffering. That is how our Master Jesus, the Messiah, learned it. That is how we learn it. It is the process God uses.
We surely wish it could be another way. This is the only way, however. This is the way of God, our Father. The is by doing what God wants. Do we believe God has our best interests at heart? Once we clear that hurdle, obedience is right around the corner.
Trust and obedience, in God's world, are linked. We can't trust if we don't obey.
Thank God for the Holy Spirit who helps us.
Thank God our Master Jesus can be trusted.
May I be obedient to God.
In the days of his flesh, Jesus offered up prayers and supplications, with loud cries and tears, to him who was able to save him from death, and he was heard because of his reverence. Although he was a son, he learned obedience through what he suffered. And being made perfect, he became the source of eternal salvation to all who obey him, being designated by God a high priest after the order of Melchizedek. [1]
(Hebrews 5:7-10)
When the author says that the Messiah Jesus "learned obedience" and was "made perfect," he is not suggesting that the Son had been disobedient and flawed. Rather, Jesus' call involved walking obediently all the way to the end of a path to which the Father had appointed him. That he "learned obedience" means that the Son arrived "at a new stage of experience," having passed through the school of suffering. Perfection refers to the Son's having "graduated" from that school, accomplishing the mission and making it to the end of that path of passion.[2]
I have a lot to learn about obedience. I have a great teacher in Jesus the Messiah.
---
We have good news! Want to know how to be saved? Click

here

or

here

for more.
---
Jesus "learned obedience" not in the sense that He was prone to disobedience and had to bring rebelliousness under control, but in the sense that He fully entered the human experience. As a child, He obeyed His parents; as an adult, He obeyed the Law and fulfilled all righteousness.
All His life, Jesus completely fulfilled the Father's will. He knew what obedience was prior to His incarnation, of course, but He "learned" obedience on earth by experiencing it. In every situation, no matter how difficult, the Son was obedient to the Father:
The Sovereign Master has opened my ears; I have not been rebellious; I have not turned away. I offered my back to those who beat me
(Isaiah 50:5–6)
Jesus the Messiah was obedient to his Father's will. Obedience was central to Jesus the Messiah's life and thought.
Adam did not have to commit a series of sins. In one act God tested Adam, and he failed. It is termed an "offense" and an act of "disobedience." The word offense means "trespass — crossing over the line." God told Adam how far he could go, and Adam decided to go beyond the appointed limit.
And Yahweh commanded the man, "You are free to eat from any tree of the garden, but you must not eat from the tree of the knowledge of good and evil, for on the day you eat from it, you will certainly die.
(Gen. 2:16–17)
In contrast to "the trespass of one" is "the righteousness of one," meaning the righteous work of the Messiah Jesus on the cross. In Romans 5:19 Paul calls it "the obedience of One". The Messiah's sacrifice on the cross not only made possible "justification," but also "justification of life".
Salvation and Justification is not merely a legal term that describes our position before God ("just as if I'd never sinned"); but it results in a certain kind of life. "Justification of life" in Romans 5:18 is parallel to "be made righteous" in Romans 5:19. In other words, our justification is the result of a living union with the Messiah. And this union ought to result in a new kind of life, a righteous life of obedience to God. Our union with Adam made us sinners; our union with the Messiah enables us to "reign in life."
Romans 5:18–19 (NASB) —So then as through one transgression there resulted condemnation to all men, even so through one act of righteousness there resulted justification of life to all men. For as through the one man's disobedience the many were made sinners, even so through the obedience of the One the many will be made righteous.
Matthew 27:40–42 —and saying, "You who are going to destroy the temple and rebuild it in three days, save Yourself! If You are the Son of God, come down from the cross." In the same way the chief priests also, along with the scribes and elders, were mocking Him and saying, "He saved others; He cannot save Himself. He is the King of Israel; let Him now come down from the cross, and we will believe in Him.
Luke 24:26 — "Was it not necessary for the Messiah to suffer these things and to enter into His glory?"
John 17:2–4 —even as You gave Him authority over all flesh, that to all whom You have given Him, He may give eternal life. "This is eternal life, that they may know You, the only true God, and Jesus the Messiah whom You have sent. I glorified You on the earth, having accomplished the work which You have given Me to do."
John 17:26 —and I have made Your name known to them, and will make it known, so that the love with which You loved Me may be in them, and I in them."
John 19:30 —Therefore when Jesus had received the sour wine, He said, "It is finished!" And He bowed His head and gave up His spirit.
[1] The Holy Bible: English Standard Version. (2016). (Heb 5:7–10). Wheaton, IL: Crossway Bibles.
[2] Guthrie, G. (1998). Hebrews (p. 191). Grand Rapids, MI: Zondervan Publishing House.