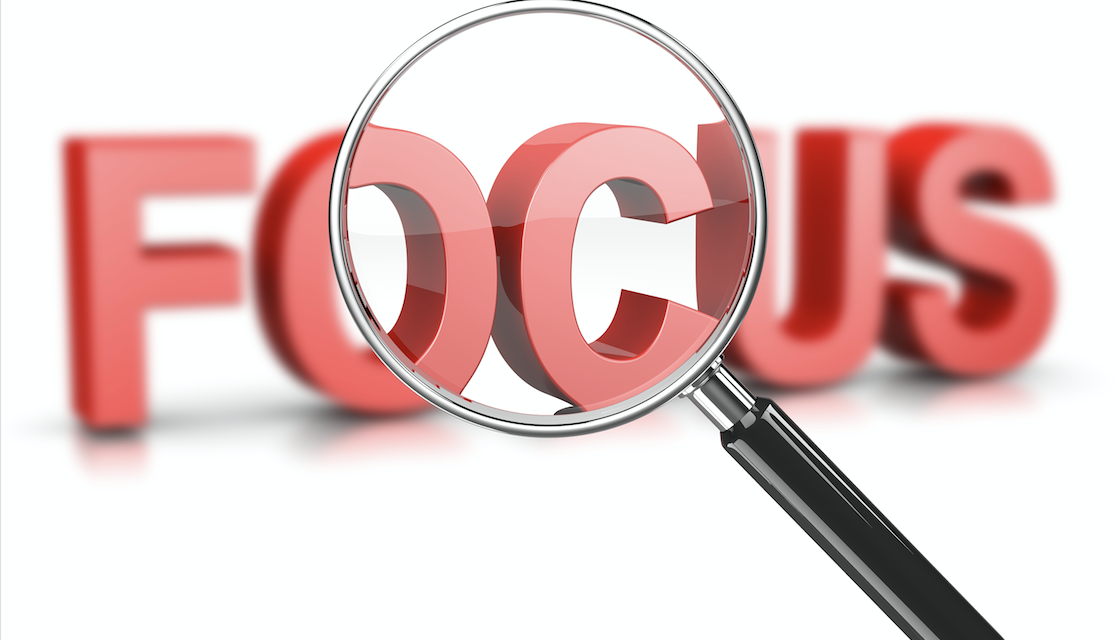 Above all else, Focus!!
This is more a realization than a resolution. This is not a resolution made at the first of the year. When I am most successful, it is a result of focus. When I am not, it is the result of too many priorities and distractions.
The primary reason people fail is not because they don't have the skills or abilities, they fail because they get distracted. There will always be plenty of opportunities for success and there will be even more opportunities to get distracted. Stay focused and Don't Get Distracted.
"The lion does not turn around when a small dog barks." ~African Proverb via Don't Get Distracted | Big Is The New Small.
I am also impressed at how men of God focus. Nehemiah knew how to focus. For him it was what would he say yes to and what would he say no to. God has a goal for us. It is to focus on His Son Jesus and the way of love. That is it. That is the main thing about the main thing.
How easy is it to get distracted? Well, some days pretty easy. My enemy sends me a great message. Let's just talk. Come and meet me. What is my response?  I get to decide. I am not a victim of my enemy. Jesus has defeated him. I can focus. Jesus gives us the power of His Holy Spirit.
Nehemiah was on a mission from God. He was doing some amazing stuff. It was no small thing. He had almost finished but there was still a few things left to do. How did he respond to the distraction of the enemy? Just say NO!!!
So …. when we are centered in the will of God, may we respond that our Yes to God is more important that anything and be able to say, "No, I cannot come down."
Now when it was reported to Sanballat, Tobiah, to Geshem the Arab and to the rest of our enemies that I had rebuilt the wall, and that no breach remained in it, although at that time I had not set up the doors in the gates, then Sanballat and Geshem sent a message to me, saying, "Come, let us meet together at Chephirim in the plain of Ono." But they were planning to harm me. So I sent messengers to them, saying, "I am doing a great work and I cannot come down. Why should the work stop while I leave it and come down to you?"
Nehemiah 6:1-3
Being double minded is a sure sign of a lack of focus. We have competing thoughts and can't figure out what God wants us to do. God wants us to love. We can focus on that. God wants us to have faith. We need to believe and not doubt. We know what God wants us to do.
If any of you lacks wisdom, let him ask God, who gives generously to all without reproach, and it will be given him. But let him ask in faith, with no doubting, for the one who doubts is like a wave of the sea that is driven and tossed by the wind. For that person must not suppose that he will receive anything from the Master [Lord]; he is a double-minded man, unstable in all his ways.
James 1:5–8 (ESV)
Do we get insight into the Bible through Jesus the Messiah's teaching?
The spiritual quality that enables a person to appreciate God's mind and will in matters of behavior, truth and providence, especially where right perception is not obvious. Insight is akin to wisdom and understanding. It is given by God and is to be sought by believers.
We seek insight of the Bible for the same reason a man seeks to understand a love letter from his sweetheart. God loves us and desires to restore our relationship with Him). God communicates His love to us in the Bible.
We seek insight of the Bible for the same reason a soldier seeks to understand a dispatch from his commander. Obeying God's commands brings honor to Him and guides us in the way of life. Those commands are found in the Bible.
We seek insight of the Bible for the same reason a mechanic seeks to understand a repair manual. Things go wrong in this world, and the Bible not only diagnoses the problem (missing God's goal for our lives) but also points out the solution (faith in the Messiah). "For the wages of sin is death, but the gift of God is eternal life in the Messiah Jesus our Master" (Romans 6:23).
The source of peace and assurance in life is the Word of God, so our Lord "opened their understanding" of the Old Testament Scriptures, just as He had done with the Emmaus disciples. After all, the believers were not being sent into the world to share their own personal experiences but to share the truths of the Word of God. We today cannot touch and feel the Lord Jesus, nor is it necessary that we do so; but we can rest our faith on the Word of God.
Jesus not only enabled them to understand the Law, the Prophets, and the Psalms, but He also reminded them of what He had taught them, and He explained how it all fit together. Now they began to understand the necessity for His suffering and death and how the Cross related to the promise of the kingdom. What a privilege it was for them to listen to Jesus expound the Word!
Luke 24:45–47 (NASB) — 45 Then He opened their minds to understand the Scriptures, 46 and He said to them, "Thus it is written, that the Messiah would suffer and rise again from the dead the third day, 47 and that repentance for forgiveness of sins would be proclaimed in His name to all the nations, beginning from Jerusalem.
Luke 24:27 — 27 Then beginning with Moses and with all the prophets, He explained to them the things concerning Himself in all the Scriptures.
Matthew 16:12 — 12 Then they understood that He did not say to beware of the leaven of bread, but of the teaching of the Pharisees and Sadducees.